---
Krešimir Nemec, F.C.A. was appointed head of the Division for the Croatian History of Literature of the Institute for the History of Croatian Literature, Theater and Music of the Croatian Academy of Sciences and Arts, for a term of four years, starting on April 1, 2021.
The Division for the History of Croatian Literature focuses its research on the history of Croatian literature, also being the only Croatian institution specializing in annotated editions of collected works of Croatian writers of the 19th and 20th century. The collected works of Antun Gustav Matoš, Silvije Strahimir Kranjčević, Ivan Mažuranić, Vladimir Vidrić, Vladimir Nazor and Ivan Goran Kovačić have been published so far, while the remaining five of the total twenty four volumes of complete works of Milan Begović are in preparation for print.
The Division organizes scientific symposia, some of which were international, on topics dealing with Croatian writers and literary historians. Papers presented at the symposia are published as proceedings (Mihovil Kombol, Slavko Ježić, Milan Begović, Franjo Fancev, Tomo Matić, Albert Haler, Branko Vodnik, Ivan Milčetić, Dragutin Prohaska and Milan Rešetar have been published so far). Division's employees are regular participants in scientific symposia Krleža's Days in Osijek and The Days of Hvar Theater.
The Division's tradition also includes the presentation of Croatian literature through exhibitions. Many exhibitions on the lives and works of Croatian authors were organized in the Division, accompanied by catalogues. Some of the more important were: A. G. Matoš (1954), Vladimir Nazor (1957), Silvije Strahimir Kranjčević (1960), 120 years of Matica hrvatska (1962), Ivan Mažuranić (1964), August Cesarec (1967), Miroslav Krleža. Life and work (1973), Dragutin Tadijanović (1980), Marijan Matković, life and work (1985), Memorial exhibition on poet Josip Pupačić (1989), Tito Strozzi (14. X. 1892 – 23. III. 1970) (2000), Jure Kaštelan 1919-1990-2000 (2000), Ivan Goran Kovačić 1913-1943 (2003), Tin Ujević (2005).
Rich archives and library support the realization of the Division's projects; they are also used by numerous researches from Croatia and abroad.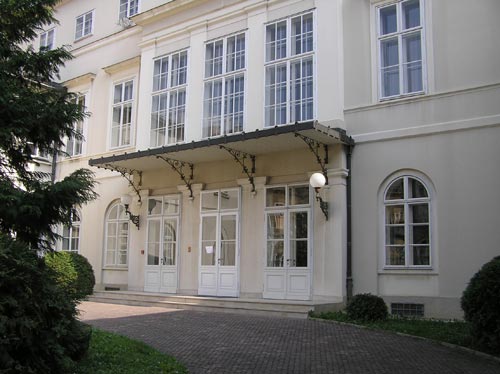 Building of the Institute for the History of Croatian Literature, Theater and Music, view from Opatička street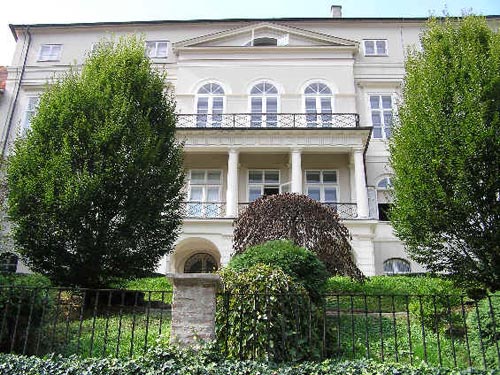 Building of the Institute for the History of Croatian Literature, Theater and Music, view from Radićeva street