Secretary: Mladen Obad Šćitaroci, F.C.A.
deputy secretary: Vladimir Marković, F.C.A.
Trg Nikole Šubića Zrinskog 11, 10000 Zagreb
Phone: +385(0)14895169
centre: +385(0)14895111
E-mail: zmuhek@hazu.hr
The Department of Fine Arts dedicates special attention to the study of artistic, scientific, and cultural themes which are contained in the basic program of activities of the Croatian Academy of Sciences and Arts. In addition to the collective and individual work of its members, the Department of Fine Arts collaborates with other departments, councils, and committees of the Academy.
The painters and sculptors who are members of the department have produced many original and individual works that are strongly expressive and highly artistic. Their numerous works have entered the history of new trends in Croatian sculpture and painting, as land- marks on the path of the development of visual expression.
In their creative work, the department's architects and urban planners have shown outstanding quality in solving a wide range of modern architectural problems within their theoretical and creative analyses and many outstanding works which can be considered landmarks in the development of Croatian architecture.
In their research, fieldwork, and public activities in the field of art and culture, theoreticians and historians of art, department's members have achieved outstanding results by consistent application of advanced methods of analysis.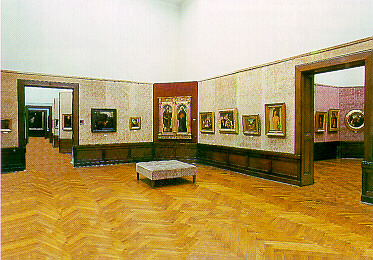 The department has developed extensive publishing activity as well. Several issues of Rad have been dedicated to topics in the arts, architecture, and the history of art.
The Bulletin of the Department of Fine Arts, which has been in continuous publication since 1952, discusses many topics of essential significance to artistic and cultural life in Croatia. The department and its members have helped the Academy to maintain its buildings, some of which are important cultural monuments.
The department also includes the following museums and galleries: the Strossmayer Gallery of Old Masters, the Glyptotheque, the Croatian Museum of Architecture, and the Cabinet of Graphics. Its research units comprise the Cabinet of Architecture and Urban Planning and the Archives of Fine Arts.