Bućan Boris, F.C.A.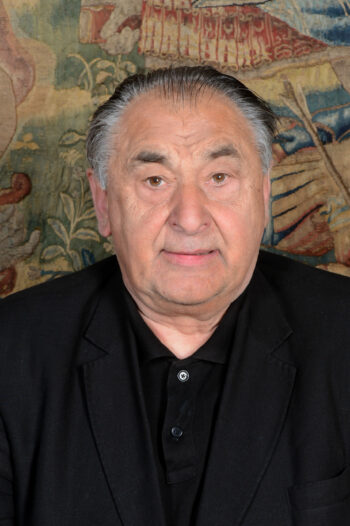 Date of birth:
Place of birth:
Deceased:
Bućan Boris, F.C.A.
Academic titles:
fellow of the Croatian Academy of Sciences and Arts
Membership in Academy:
full member – Department of Fine Arts (05/18/2006 – 05/18/2023)
associate member – Department of Fine Arts (05/18/2000 – 05/18/2006)
---
Curriculum Vitae
Boris Bućan was born on March 15, 1947, in Zagreb. In 1967 he graduated from the School of Applied Arts in Zagreb. In the same year he enrolled at the Academy of Fine Arts in Ljubljana, and continued his studies at the Academy of Fine Arts in Zagreb, where he graduated in 1972.
Even during his studies, he began to intensively engage in graphic design and attracted attention with posters for the Student Center Gallery and Gavella Drama Theatre. In 1982, Bućan created the now legendary poster solution for Igor Stravinsky's ballet "The Firebird".
He can be said to be one of the most successful Croatian painters in history, not only because since 1984 he has recorded more than twenty top international awards and recognitions (many of which are Grand Prix), but mainly because the world's famous Victoria&Albert Museum from London has awarded him the title in its representative catalogue in its unique review of the most successful posters of the twentieth century (from 1870 to the present day).
Bućan's works are now in the world's most prominent museums and galleries (New York, Munich, Essen, Melbourne). At the Venice Biennale in 1984 he presented the former SFRY with a series of large-format posters for the Croatian National Theatre in Split. In 1989 he participated in the Biennale in Sao Paulo, and in 1992 at the Triennale in Milan. Since 1987, he has exhibited exclusively paintings and drawings.
Bućan has exhibited at more than 70 solo exhibitions (Ljubljana, Edinburgh, Venice, Sarajevo, Shanghai, Ankara, Zagreb, Melbourne, New Jersey, Copenhagen, Adelaide, Jerusalem, Dordrecht, Wiesbaden, Berlin, Osijek, Našice, Rijeka), and participated in more than 150 collective exhibitions at home and abroad. He received the Lifetime Achievement Award of the Croatian Design Society in 2006. As of 2020, three of his posters are in the permanent exhibition of New York's MOMA.