Secretary: Ferdo Bašić, F.C.A.
Deputy secretary: Goran Durn, F.C.A.
Trg Nikole Šubića Zrinskog 11, 10000 Zagreb
Phone: +385(0)14895171
centre: +385(0)14895111
E-mail: tihana@hazu.hr
The Department of Natural Sciences includes two branches of science – biology and geology – each responsible for a wide range of fields. In biology, these are forestry and agriculture genetics, cellular biology and molecular genetics, the complex fields of microbiology, macrofauna and microfauna, ecology, physiology, immunobiology, and biochemistry. The geology branch includes the areas of paleontology, stratigraphy, tectonics, crystallography, the petrology of igneous, metamorphic, and sediment rocks, deposits of mineral raw materials, geochemistry, geophysics, and geography.
Prominent former members of the department were: Špiro Brusina, Đuro Pilar, Andrija Mohorovičić, Dragutin Gorjanović Kramberger, Mišo Kišpatić, Alois Tavčar i Fran Tućan.
The Department of Natural Sciences has three scientific units: the Ornithological Institute, the Institute for the Paleontology and Geology of the Quaternary Period. Department members participate in various scientific councils and committees of the Academy, such as the Oil Council, Council for Telemetry and Photointerpretation, the Council for Environmental Protection, the Council for Natural Scientific Research on the Adriatic, the Council for Agriculture and Forestry, the Geochemistry Committee, the Geotectonics Committee, and the Karst Committee. Corresponding members and associate members take an active part in the activities of the Department. Department members also participate in the work of the Center for Scientific Work in Vinkovci and the Arboretum in Trsteno. The Department also publishes three scientific periodicals: Acta biologica, Anali za šumarstvo (Forestry Annals), Acta geologica, and Larus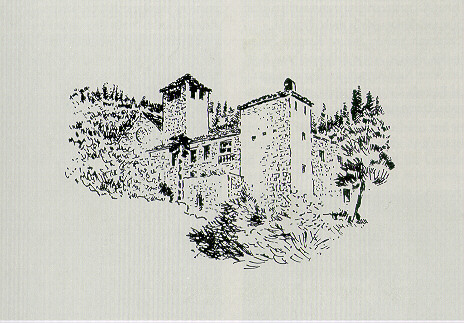 St. Jacob's monastery, Dubrovnik, headquarters of the
Institute for Corrosion Research and Desalinization
of the Croatian Academy of Sciences and Arts