Bašić Ferdo, F.C.A.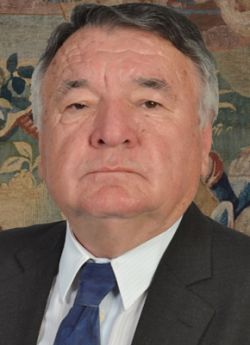 Date of birth:
Place of birth:
Broćanac, Općina Posušje, BiH
Addresses:
Trg Nikole Šubića Zrinskog 11, 10000 Zagreb
Phones:
Emails:
Bašić Ferdo, F.C.A.
Academic titles:
fellow of the Croatian Academy of Sciences and Arts
doctor of Science
Institutions:
Professor (retired) – Faculty of Agriculture, University of Zagreb (2010. – …)
professor emeritus – University of Zagreb (2011. – …)
Functions in Academy:
president – Scientific Council for Agriculture and Forestry (03/29/2023 – …)
secretary – Department of Natural Sciences (01/01/2019 – …)
member of the Presidency – Croatian Academy of Sciences and Arts (01/01/2019 – …)
president – Scientific Council for Environmental Protection (07/01/2015 – 09/25/2019)
Membership in Academy:
full member – Department of Natural Sciences (05/15/2014 – …)
---
Curriculum Vitae
Ferdo Bašić entered the 50th year of his professional career in science and academic teaching at the end of 2020. He was born in 1945 in Broćanac near Posušje in Herzegovina. Following his birth, the family moved to Ilok, where he grew up and completed his primary and secondary education. After having worked as agricultural technician for two years in the vicinity of Bač in Vojvodina, and at the Agro-industrial Conglomerate Županja, he enrolled the Zagreb Faculty of Agriculture in 1966. He spent three months in 1968 on student practice at the elite Max Planck Institute in Trenthorst near Lübeck, Germany, where he became familiarised with and adopted the concept of teamwork in science. This experience left a lasting mark on his later career. He completed his studies in the minimum time (in 1970), with grade point average of 4.37. After graduation, he remained at the Faculty as assistant lecturer at the Department of Pedology, and enrolled the postgraduate studies in pedology. Subsequently, due to his closeness to the "Croatian Spring", Ferdo Bašić lost his post at the Faculty, but was welcomed at the Institute of Pedology in Zagreb, at his "old post from the senior student days". In 1973, he moved to the Agricultural College in Križevci, where he worked 11 years. There he taught theoretical classes and led exercises for the subjects of Pedology and Agricultural Reclamation, published two editions of textbooks in pedology, and participated in the development of a professional base for the design and execution of pipe drainage and agro-technical reclamation of agricultural soils. In 1984, he returned from his college teacher post to his earlier position of assistant lecturer at the Department of General Plant Production of the Faculty of Agriculture.
The list of his works illustrates best the dynamics of his professional career. Over a period of five decades, Ferdo Bašić has been a link between the period of intensification and the current period of the "greening" of agriculture, i.e. environmentally mindful – sustainable management and sustainable intensification of agriculture, adjusted to the climate change. He at all times recognised the "voice of time" and "met" it. As active participant in the World Food Summit in Rome in 1996, where he coordinated the drafting of the national report on the state of food supply, significantly entitled Croatian agriculture at the crossroads, together with other scientists gathered at the event, he initiated and subsequently encouraged the changes that marked the last decades in the domain of world agriculture, and were oriented towards an environmentally, economically and socially sustainable system of soil management and the protection thereof.
He has left a deep mark both in science and in the education of many generations of students of secondary agricultural schools, the Agricultural College in Križevci, and of all degrees, when the topics regarding soil, sustainable management, damage of soil, and soil protection are discussed.