Adress: Lapadska obala 6, 20000 Dubrovnik
Phone: +385 0 20 356 222
---
Web site of  Institute for Historical Sciences in Dubrovnik
Nella Lonza, F.C.A. was appointed head of the Institute of Historical Sciences in Dubrovnik for a term of 4 years starting from  February 27 2019.
Vesna Miović, Ph.D. was appointed director of the Institute of Historical Sciences in Dubrovnik for a term of 4 years starting from March 10, 2020.
---
Institute for Historical Sciences in Dubrovnik was founded in 1949. Its activities focus on the systematic exploration of the history of Dubrovnik and the Ragusan Republic ranging from political, economic, legal, and demographic history to the history of art and literature and the history of everyday life. The results of its research are published in the periodicals Anali (in Croatian) andDubrovnik Annals (in English), and in special editions of the series Monumenta historica Ragusina, Monografije (Monographs), Prilozi demografskoj povijesti Dubrovnika i okolice (Contributions to the Demographic History of Dubrovnik and its Surroundings) and Pretisci (Facsimile Editions).
The Institute is located in the Sorkočević family's Renaissance summer residence on the Lapad peninsula. It has a rich library and several library and archival collections (the Ivo Bizzara Library, the Petar Hektorović Archives, etc.).
The Institute furthermore comprises the Collection of Baldo Bogišić in Cavtat.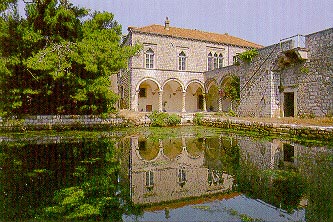 ---
The Museum and Collection of Baltazar Bogišić in Cavtat
Obala dr. A. Starčevića 18, 20210 Cavtat
Phone: +385 0 20 478 556
Phone: +385 0 20 471 144
E-mail: hazu.bogisic@du.htnet.hr
Baldo Bogišić (Cavtat 1834 – Rijeka 1908), doctor of the laws and doctor of philosophy, law-maker and legal historian of European renown, cosmopolite, one of the greatest Croatian travellers and collectors of 19th century, resident in Paris since 1875 (at 71 rue de Saints Pères), had been a full member of the Croatian Academy of Sciences and Arts since its founding as well as a member of many other academies and scientific societies; moreover, he had been awarded several high European prizes. Baldo Bogišić's name and his Cavtat Collection (museum, library and archives) are today a recognisable cultural symbol of the wider Dubrovnik area including Konavle, where he had been born. His legacy, from the points of view of its scientific, cultural, historical and artistic value, represents a particularly important segment of the Croatian heritage. It furthermore represents a rare example of a fairly large personal collection of cultural treasures, bearing distinguished scientific and polyhistoric features, which had been put together following the principle of internal links from the entire European space and throughout its complex time periods, whereby the focus had been set upon the substantial and the written traces of legal history, Bogišić's primary interest.
The Collection comprises over 35,000 items and includes the archaeological collection from the Epidaurum period, which had been put together by B. Bogišić in 1898, during his stay in Cavtat. The library, the archives, even each of the museum collections taken separately, are well-known in the expert circles thanks to the many rarities and the unique exempla; among them, particularly important are the Croatia-related works.
B. Bogišić's library comprises approximately 15,000 books and brochures, around 200 journals, some newspapers, 66 incunabula, 164 manuscripts and 165 maps. The collected archival material is divided into 39 thematic units (mainly legal history, folk customs and literature, and Bogišić's personal archives comprising a fairly rich correspondence numbering 10,092 units and 1,481 correspondents). Among the museum collections, particularly important are the following: a highly-valued collection of old prints (8,185 sheets dating from between 16th and 19th century), one of the three largest collections of the kind in Croatia; and a collection of money and medals dating from between the ancient period and the end of 19th century – small in size, but rich in content (numbering 2,674 exempla). There is an exceptionally interesting collection of items bearing legal and symbolic relevance (around 150 items), which is the unique one of the kind in Croatia. The remaining minor museum collections in Bogišić's legacy include the works of fine arts and crafts; weapons and arms; ethnographic and other items.
The Collection of Baldo Bogišić in Cavtat was founded by his sister, Marija Bogišić-Pohl, in the years between 1909 and 1912.