Adress: Lapadska obala 4, 20000 Dubrovnik
Phone: +385 0 20 356 222
Web site of  Institute for Historical Sciences in Dubrovnik
---
The Institute for Historical Sciences in Dubrovnik is dedicated to interdisciplinary research of the history of Dubrovnik and its broader Mediterranean and Balkan surroundings. Its main research area is the history of the Dubrovnik Republic, i.e. the period from the 14th until the early 19th century, during which Dubrovnik was an independent republican city-state.
Founded in 1949, the Institute is one of the research units of the Croatian Academy of Sciences and Arts (CASA). It is located in the Renaissance villa of the Sorgo (Sorkočević) patrician family, and holds a rich manuscript and library collection.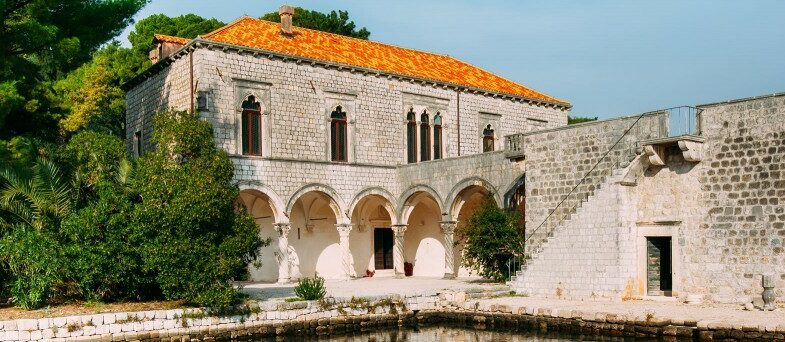 The Institute publishes two peer-reviewed journals fully available online: Anali Zavoda za povijesne znanosti in Croatian and Dubrovnik Annals in English. The archival documents, drawn mainly from the collections of the State Archives of Dubrovnik, are published in the series Monumenta historica Ragusina. The scholarly studies are published in three main series: Monografije (Monographs), Prilozi demografskoj povijesti Dubrovnika (Contributions to the demographic history of Dubrovnik), and Studies in the History of Dubrovnik (in English).
Within the framework of the Institute is also The Collection of Baltazar Bogišić in Cavtat.
---
The Collection of Baltazar Bogišić in Cavtat
Obala dr. A. Starčevića 18, 20210 Cavtat
Phone: +385 0 20 478 556
E-mail: bbogisic@hazu.hr
Baltazar (Baldo) Bogišić (1834-1908) was a legal historian of international renown, a polymath, and a member of the Yugoslav Academy of Sciences and Arts (today Croatian Academy of Sciences and Arts) from its very foundation.
The Collection was established in 1909/1912 by Bogišić's sister, Marija Bogišić-Pohl. Since 1955 the collection has been part of the Institute for Historical Sciences of the Croatian Academy of Sciences and Arts in Dubrovnik, and since 1958 has been housed in the building of the Count's (Captain's) Palace in Cavtat.
Bogišić's library contains 15,000 books and brochures, 200 journals, 66 incunabula, 164 manuscripts and 165 geographical maps. The collected archival material is divided into 39 thematic sections (mainly legal history, ethnography, and Bogišić's extensive private correspondence including 10,092 items and 1,481 correspondents). Among the museum collection holdings, particularly important are the following: a highly-valued collection of old prints and drawings (8,185 sheets dating from the 16th to the 19th century); a collection of coins and medals from the Antiquity and later periods (2,674 items); a collection of archaeological artefacts; an exceptionally interesting collection of items bearing legal and symbolic relevance (around 150 items), unique in Croatia. Minor collections in Bogišić's legacy include the works of fine arts and crafts, weapons, ethnographic and other items.
The Collection is accessible for scientific research, and a selection of artefacts is exhibited and open to the public.