Intervju dr. sc. Hane Breko Kustura u Večernjem listu od 17. prosinca 2022. donosimo u cijelosti: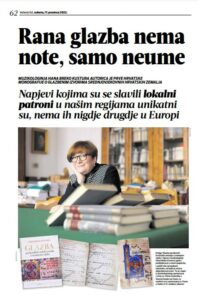 U izdanju kuće Leykam international upravo je objavljena knjiga članice suradnice HAZU, muzikologinje, prof.dr.sc. Hane Breko Kustura, Glazba povijesnih hrvatskih zemalja u srednjemu vijeku. Monografija je rezultat istraživanja projekta HRZZ – HAZU/ IP 6619, CROMUSCODEX70- Croatian Musical and Liturgical Codices of the Middle Ages: Interdisciplinary Research.
Na ukupno 272 stranice monografija nudi prvu suvremenu sintezu povijesti hrvatske glazbe srednjega vijeka – razdoblju od 1050. godine do kraja 16. stoljeća. Riječ je o rezultatima istraživanja latinskih crkvenih glazbenih kodeksa notiranih notacijom srednjega vijeka, promatranih u komparativnom kontekstu europskih glazbenih izvora.
Autorica je diskurs podijelila u osam poglavlja koja su opremljena bogatim  sažetcima na engleskom i njemačkom jeziku, te faksimilima u boji koji u ovoj knjizi doživljavaju svoju prvu objavu, uz dozvolu stranih (Oxford, Budimpešta, Berlin, Vatikan, Los Angeles), ali i svih hrvatskih crkvenih arhiva koji čuvaju vrijedne glazbene dokumente, krucijalne temelje hrvatske glazbe u srednjemu vijeku.