Tomaš Stjepan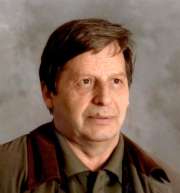 Date of birth:
Place of birth:
Nova Bukovica near Slatine
Addresses:
Ljudevita Posavskog 22, 31000 Osijek
Phones:
+385 092 2981 759
+385 031 623 070
Emails:
Tomaš Stjepan
Membership in Academy:
associate member – Department of Literature (05/18/2000 – …)
---
Curriculum Vitae
Stjepan Tomaš, croatian writer, was born January 2, 1947 in Nova Bukovica near Slatina. In 1970 hee graduated comparative literature at the Faculty of Humanities and Social Sciences in Zagreb. He worked as a Croatian language teacher, and for some time was the editor of the school newspaper "Baranjski srednjoškolac". After that, until his retirement, he worked in the County Office for Education and Culture in Osijek.
He has published nineteen books, and has been awarded several times for his work. His most famous works are children's novels: "Dobar dan, tata", "Moljac i noćni čuvar", "Halo, ovdje komandosi" and "Moj tata spava s anđelima" which was republished under the title "Mali ratni dnevnici".
He also wrote for adults, including collections of short stories:"Tko kuca otvorit će mu se", "Smrtna ura", "Sveti bunar", "Anđeli na vrhu igle" , and novels, the most famous of which are "Život u provinciji", "Zlatousti", "Građani u prvom koljenu", "Taninska četvrt".
---
Bibliography