Efendić Suad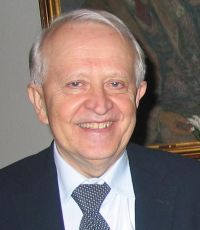 Date of birth:
Place of birth:
Trebinje, Bosnia and Herzegovina
Efendić Suad
Academic titles:
professor emeritus
Doctor of Science
Membership in the Academy:
corresponding member – Department of Medical Sciences (1/30/1997 – …)
---
Curriculum Vitae
Suad Efendić,  born 1937 in Trebinje, Bosnia-Herzegovina, is internist, endocrinologist and medical researcher. He underwent medical training in Zagreb, Croatia, and has since been active in Sweden, from 1967 at Karolinska Hospital. He specialized in internal medicine and endocrinology and in 1970 received his Doctorate in Studies on the Effect of Catecholamines on Human Adipose Tissue Metabolism at the Karolinska Institute in Stockholm. In 1972 he became associate professor of endocrinology, received a Swedish medical license in 1974, was 1985-1995 professor of diabetes research and from 1995 professor of endocrinology at Karolinska Institute. In 2006, he became emeritus.
His research mainly concerns cellular mechanisms that control the release of hormone from the pancreas, as well as pathogenesis and treatment of type 2 diabetes.
Suad Efendić was elected as a member of the Royal Swedish Academy of Sciences in 1996. Since 1997  he is a correspondent member of the Croatian Academy of Sciences and arts. In 2008 he was awarded an honorary doctorate at Charles University in Prague.