Solar Milivoj, F.C.A.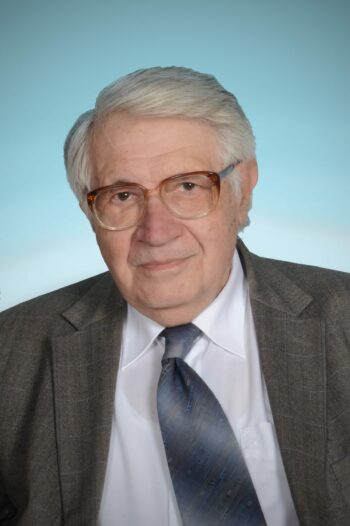 Date of birth:
Place of birth:
Addresses:
Trg Nikole Šubića Zrinskog 11, 10000 Zagreb
Phones:
Department of Literature +385 01 4895 169
Solar Milivoj, F.C.A.
Academic titles:
fellow of the Croatian Academy of Sciences and Arts (05/29/2008 – …)
doctor of Science
Institutions:
Professor (retired) – Faculty of Humanities and Social Sciences, University of Zagreb
corresponding memeber – CANU (Podgorica) (11/29/2011 – …)
professor emeritus – University of Zagreb
Membership in Academy:
full member – Department of Literature (05/29/2008 – …)
---
Curriculum Vitae
Milivoj Solar, Croatian literary and cultural theorist and comparator, was born in Koprivnica on April 8, 1936. He completed his studies in philosophy and Yugoslav studies in 1959 at the Faculty of Humanities and Social Sciences in Zagreb, where in 1964 he received his Doctorate in Dissertation on the Literary Opus by F. Galović. Since 1963 he has worked as an assistant, then as an assistant professor, then an associate professor, and since 1976 a full professor of theory and methodology of studying literature  in the Department of Comparative Literature. From 1987-1990 he was also minister for education and culture. Since 2007 he has been professor emeritus. He gave guest lectures in the fields of comparative literature, Croatian literature and literary theory at many foreign universities.
Solar's scientific work and interest focuses on the fundamental issues of literary theory, especially the problems of poetics and the relationship of literary theory to philosophy. Solar is also interested in literary science methodology, literary analysis and universal cultural categories, such as bribery.
He has published numerous papers in domestic and foreign magazines. He has been a full member of the Croatian Academy of Sciences and Arts since 2008 in the Department of Literature. He is a member of the Croatian Writers' Association, the Croatian Philological Society and the Croatian Philosophical Society.
He received the City of Zagreb Award in 1972, the Bozidar Adžija Award in 1975, the Vladimir Nazor Award in 1977, CASA Award for the book Povijest svjetske književnosti, The City of Koprivnica Lifetime Achievement Award  in 2007, the Vladimir Nazor Lifetime Achievement Award in 2010 and the National Lifetime Achievement Science Award in 2016.