Sokač Branko, F.C.A.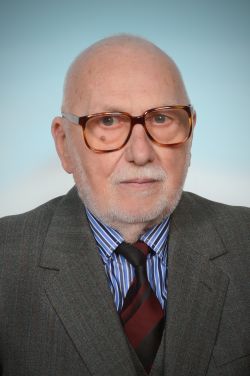 Date of birth:
Place of birth:
Addresses:
: Trg Nikole Šubića Zrinskog 11, 10000 Zagreb
Phones:
Emails:
Sokač Branko, F.C.A.
Academic titles:
fellow of the Croatian Academy of Sciences and Arts
doctor of Science
Institutions:
Scientific adviser (retired) – Institut za geološka istraživanja u Zagrebu
Functions in Academy:
secretary – Department of Natural Sciences (2004. – 2006.)
Membership in Academy:
full member – Department of Natural Sciences (06/18/1992 – …)
associate member – Department of Natural Sciences (05/19/1988 – 06/18/1992)
Akademik Branko Sokač rođen je 27.05. 1933. god. u Tivtu (Crna Gora). Po narodnosti je Hrvat i hrvatski državljanin. Osnovnu i srednju školu pohađao je u Zagrebu gdje je maturirao 1951. god. Studirao je na Prirodoslovno-matematičkom fakultetu Sveučilišta u Zagrebu – geološki odjel kojega je diplomirao 1956. godine. Nakon odsluženja vojnog roka 1957. zaposlio se u poduzeću "Elektrosond", a 1959. prelazi u Institut za geološka istraživanja gdje radi i danas.
Postdiplomski studij završio je na Prirodoslovno-matematičkom fakultetu 1964. godine. Doktorirao je na Sveučilištu u Zagrebu 1973. obranom doktorske disertacije pod naslovom "Geologija Velebita".
U zvanje znanstvenog asistenta izabran je 1978.g., u višeg znan. suradnika 1979., a od 1985. ima zvanje znan. savjetnika. Za člana suradnika JAZU izabran je 1988., a za redovitog člana Hrvatske akademije znanosti i umjetnosti 1992. godine.
Član je:
European Palaeontological Association
International Association of Sedimentologists
Sudjelovanje na znanstvenim i stručnim skupovima:
III. Simp. Dinarske asocijacije, Zagreb, 1968.
Coll. Jurassique Mediterr., Budapest, 1969.
VII Kongres geologa SFRJ, Zagreb, 1970.
III Skup sedimentologa Jugoslavije, Zagreb, 1978.
IX Kongres geologa SFRJ, Sarajevo, 1978
Colloque l'Urgonien des Pays Mediterraneens, Lyon, 1979
16th European Micropaleontological colloquium, Ljubljana-Zagreb, 1979.
Jubilarni simpozij "20 godina Laboratorija za metode geol. kartiranja". Rudarsko-geološki fakultet Beograd, Beograd, 1980.
Simpozij "Kompleksna naftno-geološka problematika podmorja i priobalnih dijelova Jadranskog mora", Split, 1981.
2. International Symposium-Kreide, München, 1982.
6th I.A.S. European Regional Meeting of Sedimentology, Lerida, 1985.
Int. Symp. "Evolution of the Karstic carbonate platform: relation with other Periadriatic carbonate platforms", Trieste, 1987.
4. Treffen deutschsprachique Sedimentologen in Innsbruck, Innsbruck, 1989.
II. Int. Symp. on the Adriatic Carbonate Platform, Zadar, 1991.
Privredne značajke društvene valorizacije otoka Mljeta, Mljet, 1995.
7th Int. Symposium on Fossil Algae, Nanjing, 1999.
Znanstveni projekti:
Suradnik u više znanstvenih projekata do 1990. Glavni istraživač na projektu Fosilne vapnenačke alge (Dasycladaceae) mezozoika. Do 1999. direktor TiD programa "Geološke karte R Hrvatske" i voditelj teme "Geološka karta R Hrvatske 1:50000".
Nastavna djelatnost:
Predavač na postdiplomskom studiju iz područja geologije na Prirodoslovno-matematičkom fakultetu u periodu 1980-1986.
Voditeljstvo teza:
Višekratno član komisija za obranu teza i postdiplomskih radova.