Sesar Dubravka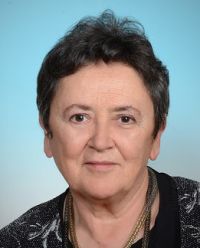 Born:
Deceased:
August 26, 2023, in Zagreb
Sesar Dubravka
Academic titles:
Institutions:
Professor – Department of West Slavic Languages ​​and Literature, Faculty of Humanities and Social Sciences, University of Zagreb
Membership in Academy:
associate member – Department of Philological Sciences (05/15/2014 – 08/26/2023)
---
Dubravka Sesar, born in 1947 in Split, was full professor in permanent employment at the Department of West Slavic Languages and Literature at the Faculty of Humanities and Social Sciences in Zagreb, now retired. She is a leading Croatian bohemianist and a recognized Slavicist outside of Croatia. She deals with comparative Slavic topics, especially sociolinguistic, syntactic and translational. In addition to numerous comparative-Slavic scientific works, encyclopedic articles, reviews, presentations and reviews, and translations of Slavic classics (mainly poetry), she is the author of the scientific book Putovima slavenskih književnih jezika ​​(1996), a university textbook for students of Bohemian Studies (2001) and three bilingual general dictionaries and co-author of two phraseological dictionaries. She led three major Slavic projects and edited three books of works by collaborators on those projects, educated many young scientists, initiated the establishment of Slavic studies, organized the holding of the Second Croatian Slavistic Congress (Osijek, 1999) and edited six congress publications and a two-volume anthology. Her contribution to the observation of Croatian from a Slavic perspective and the enrichment of our philology with the insights gained by other Slavic philologies and her efforts to familiarize other Slavic communities with Croatian content and problems are particularly noteworthy. With her scientific work, she gained the reputation of an extremely competent Slavicist, and with her teaching work, the reputation of a dedicated and successful professor, who is successfully involved in solving various professional problems.
---
Bibliography