Sečen Josip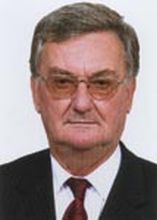 Date of birth:
Place of birth:
Emails:
Sečen Josip
Academic titles:
Institutions:
Professor (retired) – Faculty of Mining, Geology and Petroleum Engineering, University of Zagreb
Membership in Academy:
associate member – Department of Technical Sciences (05/16/2002 – …)
---
Curriculum Vitae
Josip Sečen, a graduate engineer of oil mining and a doctor of technical sciences in the field of mining, was born on September 20, 1939, in Opatija, Pokupsko municipality. He graduated from the Faculty of Mining, Geology and Petroleum, University of Zagreb in 1965 and received his Doctorate in 1982 with his dissertation Mogućnost primjene tekućina podatljivih miješanju za istiskivanje nafte iz ležišta u SR Hrvatskoj.
He was employed in the company INA-Naftaplin from 1966 to 2004. Since 1970 he has worked at the Faculty of Mining, Geology and Petroleum, since 1989 as a full professor. He taught courses Pridobivanje nafte i plina, Razrada ležišta ugljikovodika, etc. He retired in 2009.  He is expert for elaborating hydrocarbon deposits and obtaining oil and gas, deals with the elaboration of oil, gas and gas-condensate deposits in exploitation, analysis of pressure losses in production pipes and surface nozzles of eruptive wells, design, and interpretation of hydrodynamic well measurements and energy. He is the author of Pridobivanje nafte eruptivnim načinom (1977), Istiskivanje nafte tekućinama podatljivim miješanju (1987), Razrada ležišta ugljikovodika (2002), Metode povećanja iscrpka nafte (2006). He was editor-in-chief of Nafta magazine (2005−2014).