Pavelić Krešimir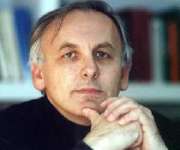 Date of birth:
Place of birth:
Emails:
Pavelić Krešimir
Academic titles:
professor Doctor of Science
Membership in the Academy:
corresponding member – Department of Medical Sciences (6/18/1992 – …)
---
Curriculum Vitae
Krešimir Pavelić was born on July 19, 1952 in Slavonski Brod. He is a scientific advisor and a full professor in tenure. He was the founder and longtime head of the Department of Molecular Medicine of the Ruđer Bošković Institute in Zagreb, the founder and head of the Department of Biotechnology, University of Rijeka, and was a vice-dean of School of medicine, University of Pula. He served as Secretary General of the Intergovernmental Organization European Molecular Biology Conference (2008-2013) of which he was vice-president (2004-2008). He is a full member of the European Academy for Sciences and Arts, a full member of the European Molecular Biology Organization (EMBO Academy). He graduated from the Faculty of Medicine, University of Zagreb in 1975, received his master's degree in 1977, and received his Doctorate in 1979.  He became a scientific advisor in 1985 and a full professor at the Faculty of Pharmacy and Biochemistry in 1990. He has been on specialization or as a professor in the USA and Germany (Roswell Park Memorial Institute, Buffalo, New York, Institut für Physiologische Chemie, Krankenhaus Eppendorf, Hamburg, College of Medicine, Cincinnati, Ohio Mayo Clinic, Rochester, Minnesota). He has published  300 scientific papers in respected international journals. He has participated in over 200 international scientific conferences as an invited or plenary lecturer. He led numerous domestic and international scientific projects. He raised experts, some of whom are now directors of medical and/or scientific institutions. He ran over 50 doctorates and master's degrees. He was awarded two rector's awards from the University of Zagreb (1973 and 1974), the Drago Perović Award (1973), the Federal Award for Young Scientists Under 30 (1978) and the "Vuk Vrhovac" Award (1980). In 1993, he received the Yamagiwawa-Yoshida Award, presented by the International Union Against Cancer, in 1997, The Award of the Croatian Academy of Medical Sciences, and in 1998 he was awarded the Annual National Science Award. He won a Fulbright Scholarship from the U.S. government. He received the highest international recognition for his scientific work by becoming a full member of EMBO in 2002, the world's strongest academy of life sciences, which has about 60 Nobel Prize winners. He made a significant contribution to the problem of the nature of transformed cells and the development of new cures and medical means. He has been a corresponding member of the Croatian Academy of Sciences and Arts since 1992.
Krešimir Pavelić – Personal Page