Mihaljević Milan, F.C.A.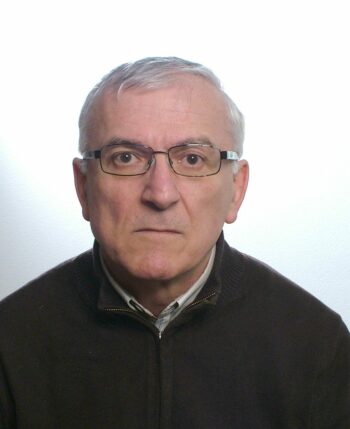 Date of birth:
Place of birth:
Addresses:
Office: Old Church Slavic Institute, Demetrova 11, 10000 Zagreb
Phones:
Office +385 01 2220 024
Department of Philological Sciences +385 01 4895 172
Emails:
Mihaljević Milan, F.C.A.
Academic titles:
fellow of the Croatian Academy of Sciences and Arts (11/16/2020 – …)
full professor
Functions in Academy:
deputy secretary – Department of Philological Sciences (2023 – …)
Membership in Academy:
full member – Department of Philological Sciences (11/16/2020 – …)
associate member – Department of Philological Sciences (05/20/2010 – 11/16/2020)
---
Milan Mihaljević was born in Zagoričani, near Livno in 1955. He graduated from the Faculty of Humanities and Social Sciences in Zagreb with a degree in general linguistics and philosophy. At the same faculty he received his master's degree (1981) and doctorate (1985) with topics in general linguistics and from the Croatian editing of the Church Slavonic language. As a winner of the Herder Scholarship, he specialized in Slavic studies at the University of Vienna with Professors František Vaclav Mareš and Radoslav Katičić. Since 1979, he has been permanently employed at the Old Church Slavic Institute in Zagreb, since 2006 as a scientific advisor in permanent employment.
He wrote seven books, edited five of them and wrote a multitude of scientific and professional papers. In his scientific work he showed great interest in general linguistics (Generativna i leksička fonologija – 1991., Generativna sintaksa i semantika – 1998.), and in particular he successfully connected knowledge from modern general linguistics and knowledge of old Croatian Glagolitic texts (Generativna fonologija hrvatske redakcije crkvenoslavenskog jezika – 1991., Jezik hrvatskoglagoljskih Pazinskih fragmenata – 2012., Jezik najstarijih hrvatskoglagoljskih rukopisa – 2014.). Great gain for Croatian philology and for Croatian university teaching was Mihaljević's work Slavenska poredbena gramatika: first part (Uvod i fonologija) appeared in 2002, and the second (Morfologija, Prozodija, Slavenska pradomovina) in 2014.
Important editorial books: he organized and translated Old Slavic texts for Vesperal (1999), was one of the main authors and editor of special achievements of Croatian and world Paleoslavistism, book Hrvatski crkvenoslavenski jezik  (2014) and Proceedings Glagoljica i hrvatski glagolizam (2004), and recently edited a very demanding four-volume book Drugi beramski brevijar: hrvatskoglagoljski rukopis 15. st.  (2018, 2019) consisting of facsimiles and transliteration and equipped with state-of-the-art philological apparatus. The book is the result of the work of the Scientific Centre of Excellence for Croatian Glagoliticism, which was founded in 2014 at the Old Church Slavic Institute in Zagreb. Milan Mihaljević has been leading  this Centre since the beginning of its activities. In Centre a computer database has been created and contains translitered and grammatical, paleographic, historical, literary and liturgically processed texts of the aforementioned book.
Milan Mihaljević is a welcome guest at domestic and foreign scientific and professional conferences, and in many world slavic centers his performances have strengthened the reputation of Croatian philology. At home, he was an outstanding help in teaching undergraduate classes and was one of the busiest lecturers in postgraduate linguistic studies at the Faculty of Humanities and Social Sciences in Zagreb.
Today he is one of the leading Croatian linguists and one of our most active and respected representatives in the international scientific community.
He was elected as a full member of the HAZU in 2020 and has been an associate member since 2010.