Jankovič Ján, književnik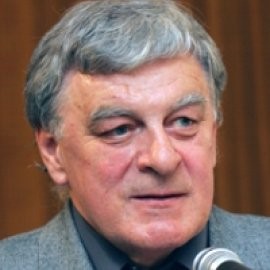 Date of birth:
Place of birth:
Deceased:
June, 12, 2021, Bratislava
Jankovič Ján, književnik
Academic titles:
Membership in Academy:
corresponding member – Department of Literature (05/18/2006 – 06/12/2021)
---
Životopis
Ján Jankovič, slovački kroatist, rođen je 21. srpnja 1943. u Považkoj Bystrici. Na Sveučilištu u Bratislavi stekao je doktorat znanosti disertacijom Restauracija, zajednička tema Antuna Nemčića Gostovinskoga i Jána Kalinčiaka. Najveći je dio svoga znanstvenog, stručnoga i bogatoga prevoditeljskoga rada posvetio hrvatskoj, a djelomice i ostalim južnoslavenskim književnostima. Među njegovim se brojnim djelima naročito ističu monografije Hrvatska književnost u slovačkoj kulturi do 1938. godine, Bratislava, 1997; Stanislav Mečiar – kroatofil, Bratislava, 2001; Hrvatska književnost u slovačkoj kulturi II – 1939 – 1948, Bratislava, 2002; Lijepa naša je i  naša, I. i II., Bratislava, 2001. i 2005. Autor je pedesetak kroatističkih znanstvenih studija, predgovora i pogovora u slovačkim edicijama hrvatskih pisaca te niza natuknica u slovačkim enciklopedijama i leksikonima o Hrvatskoj i Hrvatima.
Preveo je prozu Marije Jurić Zagorke (brojni romani u četrdesetak izdanja), Branka Belana, Ludwiga Bauera. Pavla Pavličića, Ivana Aralice, Hrvoje Hitreca, Jože Horvata, Mire Gavrana i Nedjeljka Fabrija, poeziju Maka Dizdara i Slavka Mihalića te drame Milana Grgića, Fadila Hadžića, Ivana Kušana, Milana Begovića, Iva Vojnovića i Mire Gavrana (petnaestak djela).
Kao znanstvenik Jankovič je vrstan komparatist koji najsuvremenijim metodama ispituje prožimanje dviju kultura – hrvatske i slovačke, pronalazeći u svojim preciznim i suptilnim istraživanjima malo poznate, ili pak posve nepoznate dodirne točke.  Iznimno upućen u hrvatsku književnu baštinu, on pronalazi njezine odjeke u Slovačkoj, i to ne samo u uskom krugu slovačkih kroatofila, već i na širim prostorima svoje domovine kamo su hrvatska riječ i misao dopirale još od razdoblja narodnoga preporoda.
Za dopisnog člana HAZU izabran je 2006.