Heger Juričan Henrik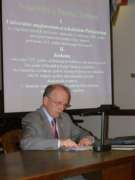 Date of birth:
Place of birth:
Emails:
Heger Juričan Henrik
Academic titles:
Doctor of Science
full professor, retired
Membership in the Academy:
corresponding member – Department of Philological Sciences (12/3/1992 – …)
---
Curriculum Vitae
Henrik Heger Juričan, a Croatian and French philologist, was born on November 26, 1940 in Maribor. He received his Doctorate in Romanesque studies from the University of Bonn in 1965, and since 1966 he has worked as a proofreader of Old-French language and literature at the University of Bochum. From 1969 until his retirement in 2005, he taught French literature of the Middle Ages at the Sorbonne in Paris, as a research assistant, then as a senior assistant, assistant professor and associate professor.
In 1981 he established the methodological and institutional foundations, and until 1991 led, on a voluntary basis, the Sorbonne Interdisciplinary Program of Croatian Studies.
He is the author of publications relating to his dual field of research upon:
– the thesis on the concept of melancholy in late medieval French lyric poetry and works on Eustache Deschamps,
– the poetic genres of the ballad and the royal song, methodology in Croatian cultural history, the Europeanisms of Croatian language,
– the culture of the High Middle Ages between the Adriatic coast  and the Pannonian plain, the medieval scholar Georges d'Esclavonie ,
– the French reception of the humanist Marko Marulić the 16th century,
– the Croat Revolt in Villefranche-de-Rouergue in 1943
– the exiled poet Vinko Nikolić.
From 1991 to 1992 he was the Plenipotentiary Representative of the Republic of Croatia in France and the Head of the Foreign Office of the Republic of Croatia in Paris. In 2004, he was appointed Minister Plenipotentiary in the Honorary Advisory Service, appointed for one year to the Permanent Mission of the Republic of Croatia to UNESCO.
He is a corresponding member of the Croatian Academy of Sciences and Arts, elected in 1992.