Gavran Miro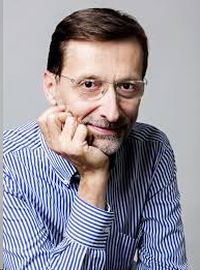 Date of birth:
Place of birth:
Gavran Miro
Membership in Academy:
associate member – Department of Literature (05/15/2014 – …)
---
Curriculum vitae
Miro Gavran is a Croatian writer born in Gornja Trnava,  May 3,  1961.  He graduated in dramaturgy from the Academy of Dramatic Art in Zagreb in 1986.  He was a dramaturg (1986–89) and artistic director (1989–92) of the Zagreb Teatar &TD in Zagreb. In 1995 he founded the Epilogue Theatre in Zagreb, which performed his drama plays, and in 2002 he founded the Gavran Theatre.
He writes plays (Kreontova Antigona, 1983; Urotnici, 1985; Noć bogova, 1986; Ljubavi Georgea Washingtona, 1988; Čehov je Tolstoju rekao zbogom, 1989; Muž moje žene, 1991; Pacijent doktora Freuda, 1993; Zaboravi Hollywood, 1997; Vrijeme je za komediju, 2001; Hotel Babilon, 2002; Kako ubiti predsjednika, 2004., and others), which, apart from Croatia, were performed in Slovenia, Poland, Bulgaria, Hungary, Bosnia and Herzegovina, the Netherlands, the USA and elsewhere.
He also publishes novels (Zaboravljeni sin, 1989; Kako smo lomili noge, 1995; Klara, 1997; Margita, 1999; Judita, 2001; Krstitelj, 2002; Poncije Pilat, 2004), a collection of short stories (Mali neobični ljudi, 1989) and prose for children (Svašta u mojoj glavi, Kako je tata osvojio mamu, Pokušaj zaboraviti,  etc.). He is the author of a dozen children's dramas, several radio dramas and screenplay for a movie Djed i baka se rastaju.
He is associate member of Croatian Academy of Sciences and Arts since 2014.
In 2023 Miro Gavran was elected as the representative of associate members in the Department of Literature and participates in the work of the CASA Assembly without the right to vote.