Feletar Dragutin, F.C.A.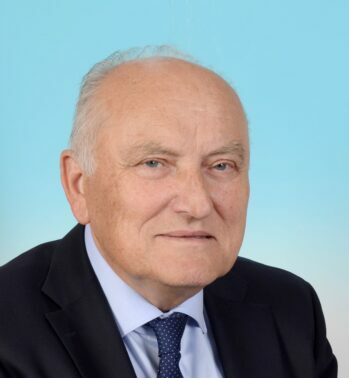 Date of birth:
Place of birth:
Deceased:
Feletar Dragutin, F.C.A.
Academic titles:
fellow of the Croatian Academy of Sciences and Arts
doctor of Science
Institutions:
Professor (retired) – Department of Geography, PMF, University of Zagreb
Functions in Academy:
member of  Awards Committee (2/26/2023 – 06/21/2023)
head of – Ethnology Division (02/27/2019 – 06/21/2023)
head of – Institute for Scientific and Artistic Work in Bjelovar (11/05/2020 – 06/21/2023)
Membership in Academy:
full member – Department of Social Sciences (05/12/2016 – 06/21/2023)
associate member – Department of Social Sciences (05/18/2006 – 05/12/2016)
---
Dragutin Feletar was born in Veliki Otok near Legrad, Jully 10, 1941. He graduated geography from the Faculty of Science in Zagreb, where he received his Doctorate in 1982. He trained in the United Kingdom, Germany, Poland and the Czech Republic. He was a professional journalist and cultural worker in Čakovec and Koprivnica (1966–83). From 1983 he was employed at the Geographical Department of the Faculty of Science in Zagreb, where he was a full professor from 1992 until his retirement in 2007. He was dean of the same faculty in 2004–06. As a visiting professor, he taught in Poland, Hungary, Germany, Slovenia, BiH and Serbia. He has been a full member of the CASA since 2016.
Dragutin Feletar is one of the leading Croatian geographers with numerous works and professional literature. In addition to geography and demographics, his scientific interest is economic and cultural history. He has published 66 scientific papers in internationally recognized journals. He is the author or co-author of numerous books, some of which are capital for Croatian geography and history. So far, he has published 23 scientific books, 46 professional books and 22 geography textbooks for primary and secondary schools.
The results of Feletar's scientific work include: contributions to Croatian economic and industrial geography; contributions to Croatian historical geography and the history of entrepreneurship; contributions to native (regional) historical geography and ecogeography; contributions to Croatian cultural history and popularization of science, etc.
Dragutin Feletar deceased on June 21, 2023 in Koprivnica.