Bezić Jerko, F.C.A.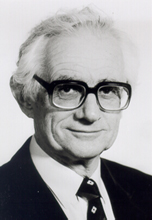 Born:
June 10, 1929, in Kranj, Slovenia
Deceased:
January 09, 2010, in Zagreb
Bezić Jerko, F.C.A.
Academic titles:
Fellow of the Croatian Academy of Sciences and Arts
Doctor of Science
Institutions:
scientific adviser, retired – Institute of Ethnology and Folklore Research
Functions in Academy:
head – Ethnology Division (09/24/2008 – 01/09/2010)
Membership in Academy:
full member – Department of Music and Musicology  (07/24/1991 – 01/09/2010)
extraordinary – Department of Music and Musicology (05/09/1988 – 07/24/1991)
associate member – Department of Music and Musicology (03/31/1980 – 05/09/1988)
---
Jerko Bezić, F.C.A., nestor of Croatian ethnomusicology, was born in Kranj (Slovenia) on June 10, 1929, and was educated in Zadar, Zagreb, and Ljubljana and in 1970 achieved a doctorate in musicological sciences. For more than thirty years (from 1964 until his retirement in 1999) he worked at the Institute of Ethnology and Folklore Research in Zagreb. While he studied musical theatre in Zadar in the 19th century, the topic of his doctoral dissertation was directed towards the research of Glagolitic singing, which became one of Bezić's areas of special interest. Through fruitful scientific research and teaching work, intensive cooperation on the international level and activities in the field of applied ethnomusicology, he has greatly contributed to the creation of the identity and reputation of ethnomusicology as a scientific discipline.
At the same time, he taught ethnomusicological subjects at the Academy of Music and the Faculty of Humanities and Social Sciences of the University of Zagreb and raised numerous ethnomusicologists, including a part of the team now employed at the Institute. He became "infected" with interest in fieldwork during his studies, and he continued to systematically engage in such research, studying traditional music in Dalmatia, Dalmatian Zagora, Slavonia, but also in Burgenland and in the vicinity of Bratislava.
With his research Bezić collected extensive and valuable musical and folklore material, and in numerous scientific papers he covered several ethnomusicological topics. Among them are the capital monographs of folklore music of the Sinj region, the islands of Zlarin, Hvar, Brač and Šolta, Hrvatsko zagorje, Požega Valley and Croats in Austrian Burgenland, as well as works on traditional folk church singing, especially Glagolitic singing in northern Dalmatia.
In 1980 he was elected associate member, in 1988 as an extraordinary member, and in 1991 he became a full member of the Croatian Academy of Sciences and Arts, where from 1997 to 2003 he was secretary of the Department of Musical Arts and Musicology
In 1992, he belonged to a group of musicologists who founded the Croatian Musicological Society. In 1999. Along with his 70th birthday, the society dedicated a solemn collection (eds. N. Ceribašić and G. Marošević), and in 2008 awarded him the "Dragan Plamenac Award" for lifetime achievement.
He has worked in domestic and international professional associations, editorial boards of scientific journals, collaborated with renowned festivals and festivals of traditional music.
The works of Jerko Bezić have brought significant advances in the formation and development of ethnomusicology in Croatia and its exemplary representation abroad. Jerko Bezić has marked Croatian ethnomusicology with his manifold activity: he has introduced significant innovations in research methodology, raised new experts and contributed to the preservation and popularization of Croatian folklore and music heritage.