U petak 24. rujna 2021. u Kabinetu grafike Hrvatske akademije znanosti i umjetnosti otvorena je izložba Dante u djelima suvremenih hrvatskih umjetnika (Vatroslav Kuliš, Tomislav Buntak, Zlatko Keser, Igor Rončević, Antun Boris Švaljek i Kuzma Kovačić), autora Milana Bešlića, koju su organizirali Hrvatska akademija znanosti i umjetnosti i Matica hrvatska povodom 700. obljetnice Danteove smrti.
Izložbu je otvorio talijanski veleposlanik u Hrvatskoj Pierfrancesco Sacco koji je podsjetio da se 2021. diljem svijeta obilježava jubilej najvećeg talijanskog književnika koji ne pripada samo Italiji jer je velikan svjetske kulture i civilizacije. "Iako je prošlo sedam stoljeća od njegove smrti, Dante nastavlja biti jedan od nas", rekao je Sacco.
Predsjednik HAZU akademik Velimir Neidhardt podsjetio je da Dante u Božanstvenoj komediji spominje hodočasnika iz Hrvatske, kao i na činjenicu da je
Danteov praunuk Niccolo Alighieri krajem 14. stoljeća u Zagrebu imao prvu ljekarnu, što svjedoči koliko je Zagreb i u to vrijeme bio kozmopolitski grad. Istaknuo je i dugotrajne veze Hrvatske s područjem Italije i obostranu kulturnu razmjenu u kojoj su ravnopravno sudjelovali i hrvatski umjetnici. Akademik Neidhardt najavio je da ovo najvjerojatnije zadnja izložba koja se postavlja u Kabinetu grafike prije njegove obnove od posljedica dvaju prošlogodišnjih potresa, a ukupno se treba obnoviti čak devet zgrada HAZU u Zagrebu. "To je veliki izazov za našu strukturu i rad, enorman zadatak koji nas stavlja na ispit o tome kako dalje, kako izdržati, kako se unaprijediti", istaknuo je.
Predsjednik Matice hrvatske Stipe Botica kazao je da je ova izložba još jedan dokaz čvrstih veza Matice s Hrvatskom akademijom, a za Danteovu Božanstvenu komediju da je neiscrpan izvor nadahnuća.
Književni tajnik Matice hrvatske Božidar Petrač koji je nedavno dovršio prijevod Božanstvene komedije kazao je da je to najpoznatije Danteovo djelo dosad devet puta prevedeno na hrvatski. "Dante i Hrvati su jedno. Dante je od početaka hrvatske autorske književnosti prisutan u Hrvata, a Marko Marulić preveo je prvo pjevanje Pakla na latinski", rekao je Petrač.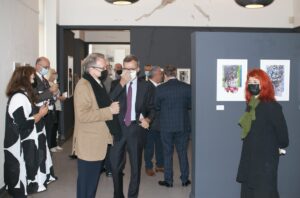 Milan Bešlić pojasnio je da su povodom 700. obljetnice Danteove smrti šest suvremenih hrvatskih umjetnika, svaki sa svog motrišta, napravili djela koja je on koncipirao kao likovni urednik budućeg izdanja Božanstvene komedije u prijevodu Božidara Petrača. "Svaki od autora imao je apsolutnu slobodu da pristupi čitajući Dantea sa svog motrišta, nađe s njime dodirnu točku te ju oblikuje i izrazi u svoj likovnom jeziku. Upravo su zato sva djela toliko različita, a ipak čine jednu povezanu cjelinu i otvaraju temu suvremenosti svevremenog Danteovog pjesništva", istaknuo je Bešlić. Vatroslav Kuliš i Tomislav Buntak interpretirali su temu Pakla, akademik Zlatko Keser i akademik Igor Rončević Čistilišta, a Antun Boris Švaljek i akademik Kuzma Kovačić temu Raja. Prema Bešlićevim riječima, Danteov jezik je izuzetno vizualan, a Pakao, Čistilište i Raj su prostori koji se raslojavaju sceničnim prizorima. Isto su tako vizualizirani i likovi, što je sve dobra uporišna točka za slikare.
Izložba će biti otvorena do 17. listopada.