Zagreb, 16. travnja 2021. – Hrvatska akademija znanosti i umjetnosti održala je u petak 16. travnja konferenciju za medije povodom izjava i postupaka Ministarstva kulture i medija i Nacionalnog muzeja moderne umjetnosti oko neriješenih imovinskopravnih pitanja između HAZU i Nacionalnog muzeja moderne umjetnosti s ciljem da se hrvatskoj javnosti objasne nastojanja da se uzurpira nepokretna i pokretna imovina u vlasništvu Hrvatske akademije.
Kako je istaknuo predsjednik HAZU akademik Velimir Neidhardt, u vezi ovog prijepora u javnosti se jednostrano iznose pojedinosti, stvari prikazuje nepotpuno i netočno te se uporno zaobilazi izvijestiti o pravno relevantnim okolnostima za rješenje prijepora.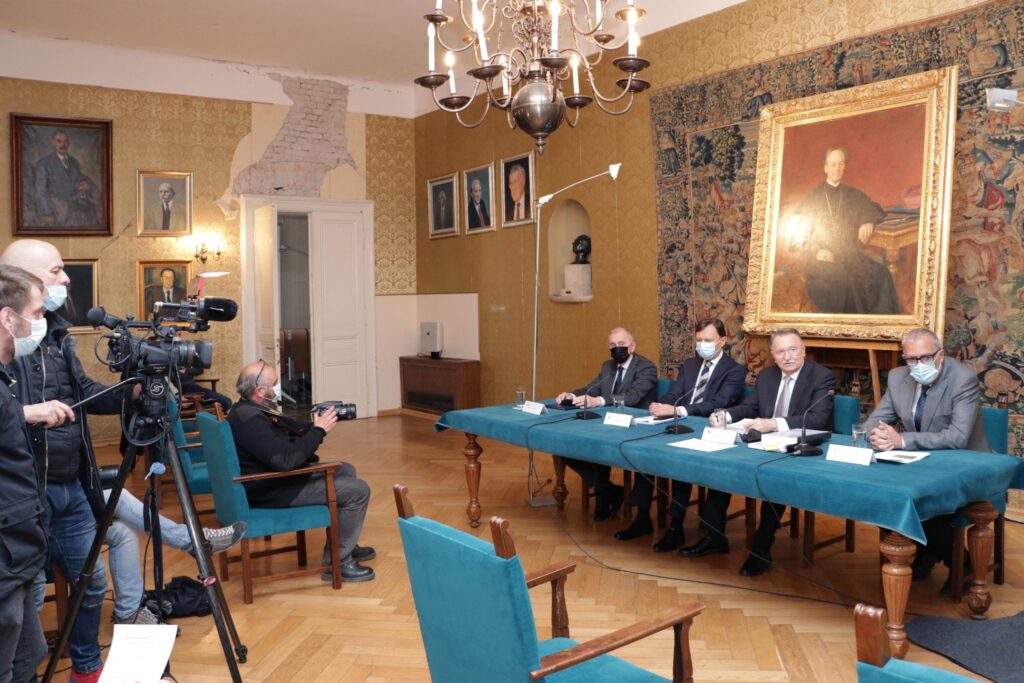 Akademik Neidhardt je podsjetio da je Hrvatska akademija temeljem Zakona o HAZU 1991. postala vlasnik palače Vranyczany u kojoj djeluje Nacionalni muzej moderne umjetnosti nakon što je od 1949. dok je palača bila u društvenom vlasništvu nad njom imala pravo upravljanja. U to vrijeme, od 1947. do 1974., tadašnja Moderna galerija bila je sastavni dio Akademije koja je ondje smjestila svojih 488 umjetnina te druge umjetnine koje je naknadno pribavila donacijama ili na drugi način. Vlasništvo HAZU nad 1057 takvih umjetnina potvrđeno je drugostupanjskom presudom Županijskog suda u Zagrebu iz 2011. koju su potvrdili i Vrhovni sud i Ustavni sud, vezano uz tužbu koju je Hrvatska akademija još 2000. podigla protiv Moderne galerije u pogledu slike Vlahe Bukovca Mlada patricijka koju je Akademiji još 1891. darovao njen utemeljitelj Josip Juraj Strossmayer. "HAZU jedino inzistira na tome da se u svemu poštuje hrvatski pravni poredak – to je dužnost svakoga a prvenstveno državnih dužnosnika. U vezi s time HAZU nudi mirno pravno rješenje što se uporno izbjegava iznijeti u javnost. HAZU želi da se oko tisuću njezinih umjetnina dade na trajno upravljanje Nacionalnom muzeju moderne umjetnosti i da one tako ostanu u njegovu postavu s naznakom u inventarnim knjigama da su vlasništvo Hrvatske akademije. HAZU smatra da Muzej treba i dalje bez naknade koristiti prostor u palači Vranyczany kao i do sada, pa predlaže i dogradnju te odgovarajuće preuređenje zgrade kako bi se zadovoljile potrebe i Akademije i Muzeja. Sve što je rečeno treba urediti ugovorom. Akademija je godinama izbjegavala vođenje sudskog spora i ne želi daljnje vođenje sudskih postupaka. Štoviše, HAZU opetovano nudi Muzeju ugovor o uređenju međusobnih odnosa, i to s jedinim ciljem zaštite nacionalne kulturne baštine, za koju je HAZU kao vlasnik suštinski i zakonski odgovorna. Naime, znatan dio umjetnina dobiven je donacijama pa se po naravi stvari HAZU ne može i ne smije odreći njihova vlasništva niti ga prenositi bilo kome", rekao je akademik Neidhardt.
Kao najgrublju objedu i notornu neistinu ocijenio je izjave iz Nacionalnog muzeja moderne umjetnosti kojima se sugerira da se HAZU okoristila okolnostima Domovinskog rata, a javnom uvredom vrhovne ustanove u hrvatskoj znanosti, umjetnosti i kulturi nazvao je nedavno izvješeni banner na pročelju palače Vranyczany na kojemu piše da Nacionalni muzej moderne umjetnosti nikada neće biti HAZU.
Predsjednik HAZU oštro se osvrnuo na prijedlog Ministarstva kulture i medija da se Akademija odrekne vlasništva nad palačom Vranyczany i nad svojim umjetninama koje se ondje nalaze. "To znači oduzimanje imovine HAZU što nije učinila nijedna od niza prošlih država u kojima je djelovala Jugoslavenska akademija, čak ni u vrijeme komunističke vlasti, pa ne bi bilo primjereno da to učini Republika Hrvatska. Štoviše propis Kraljevine Jugoslavije izričito je stavljao JAZU pod posebnu zaštitu države. Republika Hrvatska ne bi smjela odstupiti od tog standarda. Prema članku 1. Zakona o Hrvatskoj akademiji znanosti i umjetnosti HAZU je pravni slijednik JAZU i od osobite je nacionalne važnosti, a to pretpostavlja da bi trebala uživati i posebnu zaštitu države", istaknuo je akademik Neidhardt. Pojasnio je da je Akademija nedavno morala pokrenuti ovrhu nad Nacionalnim muzejom moderne umjetnosti u vezi slike Mlada patricijka jer uskoro istječe deset godina od presude Županijskog suda te bi u protivnom Akademija izgubila sve što je postigla u dvadesetogodišnjem procesu i predala svoje umjetnine. "Ovrha je simbolična, njome bi slika prešla nama, a onda će se nadamo se potpisati ugovor o suradnji. Iz ovoga bismo mogli izaći vrlo brzo i efektno, spremni smo na bilo kakve razgovore, ali ne na način na koji smo počeli. Svaka čast ministrici, ali imamo vrlo grub, proizveden odnos preko puta koji je, bojim se, zablokirao sve mogućnosti komunikacije i da će oni morati tražiti nekog drugog pregovarača", rekao je akademik Neidhardt.
Poručio je i da HAZU u proteklih 160 godina postojanja bolje od ikoga čuva hrvatsku baštinu i da će na tome ustrajati i dalje. "Nijedna naša vrijednost nije završila u tajkunskim rukama, a traženje da se Akademija odrekne svoje imovine najveći je napad na Akademiju od njezina osnutka. To nisu tražili ni Austrijanci, ni mađaroni, ni Karađorđevići, ni Pavelić, ni drug Tito, ni predsjednik Tuđman", kazao je akademik Neidhardt.
Potpredsjednik HAZU akademik Frano Parać pojasnio je da su u proteklih 160 godina mnogi građani donirali vrijedne umjetnine i pohranili ih u Akademiji jer su znali da će ona čuvati hrvatsko blago. "Osnovni motiv zašto mi ne želimo da se ovo otuđi je to povjerenje koje imaju građani Hrvatske i svi donatori Akademije, a koje mi ne smijemo ni u jednom trenutku zaljuljati i poljuljati. Zato smo, u ime donatora, inzistirali da ispod svake slike koja je u Nacionalnom muzeju moderne umjetnosti bude samo etiketa da je njen vlasnik HAZU. To uključuje i sliku Mlada patricijka", rekao je akademik Parać, dok je potpredsjednik HAZU akademik Davor Miličić istaknuo da ne postoji nijedna logika koja bi govorila da bi slika Mlada patricijka bila vlasništvo Nacionalnog muzeja moderne umjetnosti, o čemu su pravorijek dali i sudovi na svim razinama. "Sudski postupak smo pokrenuli kao paradigmu za sve ostale umjetnine jer su sve u istom pravom režimu kako bi pregled nad tim umjetninama bio transparentan, da se zna gdje se koja nalaze, i da služe na dobrobit hrvatskom narodu i svim posjetiteljima Nacionalnog muzeja. To je naš jedini motiv, a možemo se upitati koji je motiv druge strane. Ti motivi su očito netransparentni i upitni", poručio je akademik Miličić.
Marijan Lipovac
Ured za odnose s javnošću i medije HAZU