Tribuson Goran, F.C.A.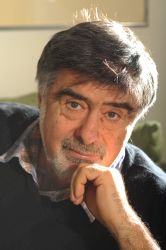 Date of birth:
Place of birth:
Addresses:
Trg Nikole Šubića Zrinskog 11, 10000 Zagreb
Phones:
Department of Literature +385 01 4895 169
Emails:
Tribuson Goran, F.C.A.
Academic titles:
Fellow of the Croatian Academy of Sciences and Arts (05/29/2008 – …)
Institutions:
Professor – University of Zagreb, Academy of Dramatic Arts
Membership in Academy:
Fellow – Department of Literature (05/29/2008 – …)
Associate Member – Department of Literature (05/18/2000 – 05/29/2008)
---
Curriculum Vitae
Goran Tribuson, Croatian writer and film writer was born in Bjelovar on August 6, 1948. He graduated in Yugoslav and Comparative Literature in 1973 from the Faculty of Humanities and Social Sciences in Zagreb, where he received his master's degree in 1977. From 1976–1979 he was employed in the Department of International Cooperation of the Republic Committee for Science, from 1979–1995 he worked at Vjesnik's Marketing Agency, 1995–2000 at the Leksikon Publishing House and from 2000 until his retirement in 2013 he was a full professor at the Academy of Dramatic Art in Zagreb.
Since 2008 he is a full member of the Croatian Academy of Sciences and Arts in the Department of Literature.
He began publishing short stories in the early 1970's in the context of generations of so-called fantasists. Fantastic stories, in which interest in occultism, Satanism, phantasmagoria, mythology and Central European localities prevail, abound in intertextuality, metatextuality and paradox, he gathered in the collections Zavjera kartografa (1972), Praška smrt (1975), Raj za pse (1978) and Zvijezda kabarea (1998).
Later he left fiction but retained Central European iconography and interest in the occult, which is noticeable in the novels: Snijeg u Heidelbergu (1980), Čuješ li nas, Frido Štern (1981), Ruski rulet (1982).
Further his novels can be divided into autobiographically marked "generational novels" (Polagana predaja, 1984., Legija stranaca, 1985; Povijest pornografije, 1988) and crime novels. In the series of crime novels, he sharply analyzes Croatian social reality: Zavirivanje (1985), Made in U. S. A. (1986), Uzvratni susret (1986), Siva zona (1989), Dublja strana zaljeva (1991), Noćna smjena (1996), Bijesne lisice (2000), Gorka čokolada (2004), Susjed u nevolji (2014), Propali kongres (2014) i Sestrica s jezera (2015). He also writes critics, reviews, columns, radio, and television scripts. His greatest screenwriting success came with his sister, director Snjezana Tribuson: the movie Ne dao Bog većeg zla, 2002., and a novel; TV series Odmori se, zaslužio si, 2006–13).
Collections of  selected stories: Spavaća kola (1983), Klasici na ekranu (1987), Osmi okular (1998), Noćne priče (2010), Obiteljske slike (2011).