Sušić Goran, dr. sc.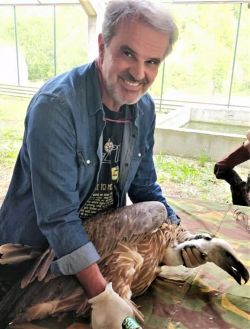 Datum rođenja:
Adrese:
Ornitološka postaja Rijeka, Zavoda za ornitologiju HAZU, Ružićeva 5/2, 51000 Rijeka
Telefoni:
+385 051 355 808
+091 3357 123
E-mail adrese:
Sušić Goran, dr. sc.
Akademske titule:
Institucije:
znanstveni suradnik – Zavod za ornitologiju HAZU
---
Životopis
Rođen 19. siječnja 1958. u Ravnoj Gori. Diplomirao biologiju na PMF-u u Zagrebu 1981.magistrirao 1985., doktorirao prirodne znanosti 1988.
Od 1985. do 1995. u Zavodu za ornitologiju HAZU u Zagrebu obavljao funkciju upravitelja Zavoda. Danas radi u Ornitološkoj postaji Rijeka Zavoda za ornitologiju HAZU u Rijeci, u svojstvu znanstvenog suradnika. Jedan od urednika zavodskog znanstvenog ornitološkog časopisa Larusa.
Tijekom dosadašnjeg rada na području ornitologije i prirodnih znanosti objavio više od 330 naslova, od čega 43 znanstvena i stručna rada, 109 stručno-popularnih članaka, 5 knjiga (neke u koautorstvu), 53 poglavlja u knjigama, 13 kongresnih priopćenja tiskanih u cijelosti, 63 kongresna sažetka, 52 znanstvene studije i 13 ostalih naslova.
Neki rezultati:
• 1990. započeo projekt "Integralna zaštita bjeloglavih supova", koji postaje holistički pristup zaštiti biološke raznolikosti otoka Cresa, sa sedam programa koji su se međusobno povezivala i nadopunjavala: 1. Integralna zaštita bjeloglavih supova; 2. Interpretacijski centar o supovima i bioraznolikosti Cresa, 3. Zaštita biološke raznolikosti, 4. Obrazovanje o zaštiti prirode, 5. Volonterski centar; 6. Očuvanje kulturne baštine i 7. Ekoturizam u cilju zaštite prirode.
• na otoku Cresu (u šumi na Tramuntani) ustanovio mrežu od 7 poučnih staza u prirodi ukupne duljine 60 km, pod zajedničkim imenom Muzej na otvorenom: Povijest i umjetnost u prirodi – gdje se objedinjavaju vrijednosti prirodnog i kulturno-povijesnog nasljeđa, poezija, umjetničke kamene skulpture akad. kipara Ljube de Karina, te legende i vjerovanja
• na otoku Cresu (u šumi na Tramuntani) izgradio 7 labirinata, čija je uloga produbljavati duhovni dijalog između čovjeka i Duha prirode.
• Uspješno lobirao da na Cresu staništa supova budu 1986.g. proglašena za dva Posebna ornitološka rezervata.
• Osnovao i vodio Oporavilište za bjeloglave supove gdje je tijekom 25 godina liječeno i oporavljano 162 ozlijeđena, iscrpljena ili otrovana supa, a njih 138 uspješno je vraćeno u prirodu.
• Provodio redovito nadgledanje svih gnijezda na Kvarneru uz prstenovanje mladih, i do danas obilježio više od 1.000 bjeloglavih supova – najviše na svijetu.
• Uspostavio dva stalna hranilišta za bjeloglave supove, jedno na Cresu i drugo na Učki.
• Spriječio izumiranje te vrste i povećao im broj u Hrvatskoj sa 60 na 140 gnijezdećih parova.
• Sudjelovao u snimanju nekoliko domaćih i međunarodnih filmova o bjeloglavim supovima i zaštiti prirode.
• 2016. do 2020. sudjelovao u uspostavi prirodnog rezervata Puertas Verdes u Amazoni (Peru), te bio koordinator programa zaštite prirode organizacije Rio Momon Conservation Association.
Članstvo  u domaćim strukovnim udruženjima i tijelima:
• Dva  mandata član predsjedništva Hrvatskog biološkog društva (HBD). 1993-1994. član Malog vijeća;
• Dva mandata član predsjedništva Hrvatskog ekološkog društva (HED);
• član Velikog vijeća Hrvatskog prirodoslovnog društva (1993-1995);
• Utemeljitelj i više puta član predsjedništva Društva  za  zaštitu, promatranje i proučavanje ptica Hrvatske;
• Jedan od utemeljitelja Hrvatskog ornitološkog društva;
• Utemeljitelj i predsjednik Svanimira (Hrvatskog udruženja za zaštitu prirodnog i kulturno povijesnog nasljeđa) od 1992-1994. godine.
• Utemeljitelj i predsjednik Istraživačko-edukacijskog centra za zaštitu prirodnog i kulturno povijesnog nasljeđa Eko-centar Caput Insulae – Beli na otoku Cresu (1995-2012);
• Utemeljitelj i predsjednik udruge Grifon – udruga za zaštitu ptica grabljivica (od 2013-danas)
• član Znanstvenog savjeta za zaštitu prirode HAZU;
• član koordinacijskog tijela za izradu Hrvatske nacionalne strategije i akcijskog plana zaštite biološke i krajobrazne raznolikosti (NSAP), pri čemu i voditelj Radne skupine za obrazovanje, znanost i obavješćivanje javnosti (1997-1998)
• predstavnik NVO-a Hrvatske u izradi NEAP-a (Nacionalnog plana djelovanja za okoliš)
• kao ekspert za bioraznolikost, angažiran 2000. od američke organizacije Chemonics u analizi statusa i stanja zaštite bioraznolikosti u Hrvatskoj, za potrebe izrade strategije USAID-ove suradnje s RH.
Članstvo u međunarodnim strukovnim udruženjima i tijelima:
• dopredsjednik EGVWG-a (Eastalpine/Easteuropean Griffon Vulture Woorking Group)
• član IUCN-ove (International Union for the Conservation of Nature) grupe specijalista za strvinare (Vulture Specialist Group of the IUCN Species Survival Commission) zadužen za Europu
Ostalo
• bio predsjednik Odbora za zaštitu okoliša Grada Zagreba
• koautor Deklaracije o zaštiti okoliša koju je prihvatio Sabor RH
• od 1993-1995. bio član Radne grupe za prirodnu baštinu Odbora za prostorno uređenje i zaštitu okoliša Zastupničkog doma Sabora Republike Hrvatske;
Nagrade i priznanja:
1. U 1995.g.: Specijalna nagrada EUROSITEA i Vijeća Europe, za projekt "Spašavanje malih močvara na otoku Cresu – očuvanje tradicije i bioraznolikosti".
2. U 1996.g.:  nagrada Charta Rabuziana za znanstveni rad u zaštiti okoliša.
3. U 1997.g.: Srebrna plaketa Državne uprave za zaštitu okoliša RH, za zasluge u očuvanju bioraznolikosti
4. U 1998.g.: nagrada Robert Keller koju dodjeljuje Rotary International – District 1910 za područje Hrvatske, Slovenije, Austrije i Mađarske za sveukupan doprinos zaštiti okoliša.
5. U 2002.g. nagrada Development marketplace kao finalistu među 2.400 projekata iz cijelog svijeta na Innnovation Competition of the World Bank Group
6. U 2009.g. posebno priznanje međunarodne organizacije Foreste per Sempre/Forest forever, za doprinos zaštiti šuma i njene bioraznolikosti
7. U 2010.g. od Grada Cresa dobio priznanje "Pro Insula", za sveukupan rad na zaštiti bjeloglavih supova, na proučavanju i zaštiti bioraznolikosti, kao i za promociju Grada Cresa u svijetu.
8. U 2011. godini dobio priznanje organizacije Skål Club International koja je njegov projekt Integralne zaštite bjeloglavih supova, te zaštite prirode u cilju održivog turizma na otoku Cresu proglasila najboljim na svijetu u kategoriji "General Countryside".
---
Bibliografija