Sunko Dionis Emerik, F.C.A.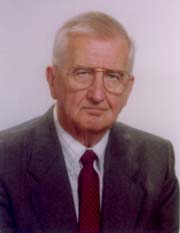 Datum rođenja:
Mjesto rođenja:
Datum smrti:
Mjesto smrti:
Sunko Dionis Emerik, F.C.A.
Akademske titule:
akademik
profesor doktor znanosti
professor emeritus
Institucije:
redoviti profesor u miru – Prirodoslovno-matematički fakultet Sveučilišta u Zagrebu
professor emeritus – Sveučilište u Zagrebu
Članstvo u Akademiji:
redoviti član – Razred za matematičke, fizičke i kemijske znanosti (30.01.1997. – 16.07.2010)
dopisni član – Razred za matematičke, fizičke i kemijske znanosti (18.06.1992. – 30.01.1997.)
Rođen je 26.IX.1922. u Zagrebu. Diplomirao je inženjersku kemiju (1946.) i doktorirao 1953. na Tehničkom fakultetu Sveučilišta u Zagrebu temom "Sinteza enantiomernih sfingina" (mentor: M. Proštenik). Od 1945. do 1951. radi u istraživačkom laboratoriju i pogonima tvornice PLIVA, a od 1951. do 1959. bio je asistent na Medicinskom fakultetu u Zagrebu. Na poslijedoktorskom studiju boravi na University of Illinois, Urbana, ILL, SAD (1957-1959.). Od 1959. je znanstveni suradnik do znanstveni savjetnik na IRB-u. Voditelj laboratorija za fizikalno-organsku kemiju 1959-71. Istodobno predaje kao ugovorni docent (1959-1963.), i izvanredni profesor na Tehnološkom fakultetu Zagrebu (1963-1965.). Od 1971. do umirovljenja 1992. redoviti je profesor organske kemije PMF-a. Bio je predstojnik Zavoda za organsku kemiju i biokemiju (1971-1987.). Dopisni je član HAZU od 1992., a redoviti član od 1997. Professor emeritus Sveučilišta u Zagrebu. Član je American Chemical Society, Fellow of Royal Society of Chemistry. Obnašao je dužnost predsjednika Hrvatskog kemijskog drustva 1968-70. Dobitnik je nagrade "Ruđer Bošković" 1967., državne nagrade za životno djelo 1992., medalje "Božo Težak" Hrvatskog kemijskog društva 1999. i državnog odličja s likom Ruđer Boškovića 1999. Boravio je kao gostujući profesor na američkim sveučilistima i to:
* University of California, Los Angeles, CA (1966.)
* University of Southern California, Los Angeles, CA (1967.)
* Indiana University, Bloomington, IN (1973., 1983.)
* University of Southern Illinois, Carbondale, IL (1977)
* College of William & Mary, Williamsburg, VA (1978./79.)
* Clarkson University, Potsdam, NY (1987.)
Bio je pozvani predavač na više znanstvenih skupova u SAD i Europi (Gordon Research Conferences, Reaction Mechanism Symposium, Kimbrough International Symposium, ESOC, ESOR, WISOR) i održao brojne seminare na sveučilištima u SAD i Europi (Harvard, Yale, UCLA, USC, UCI, U. of Ill, Cornell, Rochester, Minnesota, Wisconsin, Princeton, Kent, York, Mainz, Heidelberg, Erlangen, ETH, Padova, Moskva). Od 1991. regionalni je koordinator i član znanstvenog odbora Zimske škole o organskoj reaktivnosti (WISOR) u Bressanoneu.
Bavi se fizikalnom organskom kemijom, mehanizmima solvolitskih reakcija, sekundarnim deuterijskim izotopnim efektom, te reakcijama, strukturom i matričnom izolacijom karbokationa. Modernizirao je dodiplomski studij organske kemije na PMF-u i uveo kolegij "Fizikalno-organska kemija". Objavio je preko 100 znanstvenih radova i više stručnih prikaza i rasprava.