Stipčević Ennio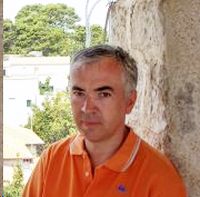 Date of birth:
Place of birth:
Addresses:
The Division for the History of Croatian Music, Opatička 18, 10000 Zagreb
Phones:
Emails:
Stipčević Ennio
Academic titles:
Institutions:
Research Adviser – The Division for the History of Croatian Music (2010. – …)
full professor – University of Zagreb, Music Academу (2013. – …)
Membership in Academy:
associate member – Department of Music and Musicology (05/12/1994 – …)
---
Curriculum Vitae
Ennio Stipčević was born in Zagreb (1959) and it was there that he went to the elementary school, high school (Classical Gymnasium) and Music High School. He received his degree at the Academy of Music in Zagreb in 1983, majoring in musicology, and he earned his Master's degree in 1986. At the University of Zagreb he received PhD in 1993.
Since 1984 he is employed at the Institute for the History of Croatian Music, Croatian Academy of Sciences and Arts, since 2015 scientific adviser wuth tenure. He was the honorary lecturer at the Academy of Music (1994-2015, since 2013 full professor). He was lecturer at the Studia Croatica (1997-2005) and at the Postgraduate Medieval Studies at the Faculty of Humanities and Social Sciences, University of Zagreb (2007-2009). He was an editor of scholastic books on music in Školska knjiga (2002-2004).
Scientific projects, scientific activity
He spent a three-month study period in Venice and Rome in 1987, while in1992 he had a two-month sabbatical in Graz and Vienna, both thanks to a scholarship given by the Croatian Ministry of Science. Due to a scholarship by the Italian Ministry of Science he was on a four-month sabbatical in Florence and Rome during the spring 1994, and thanks to a scholarship by Centre Regional des Ouvres Universitaires et Scolaries he spent a three-month sabbatical in Paris in 1995.  The ac. year 1996//97 he was a Fulbright visiting scholar at Yale University, in New Haven (USA). Since 2006 he collaborates with the Centre d'Études Supérieures de la Renaissance (Tours, FR) on the international scientific project Renaissance Music in Croatia (https://ricercar.croatia.cesr.univ-tours.fr). Project is active, and leading by Philippe Vendrix (Président de l'Université de Tours, CESR, CNRS), Vasco Zara (ARTeHIS/CNRS/Université de Bourgogne), and Ennio Stipčević. He was one of the coordinators of the intrenational project Aux Confins de l'Humanisme Musical – Monde Slave et Culture Méditeranéene (2010-2012), sponsored by the European Culture Programme. The project was hosted by Centre d'Études Supérieures de la Renaissance and concluded with an international conference The Boundaries of Musical Humanism: Slavic Regions and Medteranean Culture (Dubrovnik, 26 to 28th March,  2012).
He was the member of the Editorial Board for Opera omnia by Gabrielo Puliti, edited in Monumenta Artis Musicae Sloveniae (Ljubljana, 2004-2008), and since 2009 he is a member of the International Editorial Board there. Since 2011 he is a Chief editor of Opera omnia by Giacomo Finetti, published by Centro di Studi Antoniani (Padova). Since 2017 he is, together with Ivan Živanović, a Chief editor of Opera omnia by Tomaso Cecchini, published by KDVL-MIC, Zagreb.
His scientific research is mainly focused on renaissance and baroque music in Croatia, and included collaboration with ensembles of early music for which he had prepared a modern editions of old composers (A. Vivaldi, L. Courtoys, I. Lukačić, T. Cecchini, D. Nembri, A. Jurjević, F. and G. Usper etc.).
Some of his discoveries of old Croatian literary books attracted great attention, such as the discovery od the book Difesa de le rime et prose by Nada Bunić (1569), than the discovery of first editions of of Tirena and Piesni by Marin Držić (1551), as well as the discovery of the publication of Ljubmir by Dominko Zlatarić (1580).
Publications, awards
He published 19 books, transcribed and edited 20 early music editions, and published c. 160 papers (68 scientific + more than. 90 expert articles). In addition, he published c. 300 smaller articles including essays, encyclopedic entries and reviews. He was an editor of c. 20 scientific books, miscellanies and critical music editions.
For his scientific work he has received few awards, among them the Ivan Lukačić Award from the Varaždin Baroque Evenings (in 1988, 1998, 2011, and 2018), the Croatian Composers Society Award in 2007 (for the book Ivan Lukačić) and in 2018 (for the book Renaissance Music and Culture in Croatia), as well as the Croatian Academy of Sciences and Arts Award in 2008 (for the book Francesco Sponga Usper).
In 1994 he was elected an associate member of the Croatian Academy of Sciences and Arts. In 1999 he was appointed a fellow at Villa I Tatti (The Harvard University Centre for Italian Renaissance Studies, Florence, IT).