Škarić Vinko, F.C.A.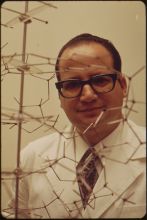 Datum rođenja:
Mjesto rođenja:
Datum smrti:
Mjesto smrti:
Škarić Vinko, F.C.A.
Akademske titule:
Institucije:
znanstveni savjetnik u miru – Institut Ruđer Bošković u Zagrebu
Članstvo u Akademiji:
redoviti član – Razred za matematičke, fizičke i kemijske znanosti (24.07.1991. – 01.01.2006)
izvanredni član – Razred za matematičke, fizičke i kemijske znanosti (11.03.1986. – 24.07.1991.)
član suradnik – Razred za matematičke, fizičke i kemijske znanosti (07.06.1977. – 11.03.1986.)
Biografija
ŠKARIĆ, Vinko, kemičar (Split,16. X. 1923.- Zagreb, 1. I. 2006.). Osnovnu školu i gimnaziju završio je u Splitu. Nakon rata, u jesen 1945. upisao je Kemijsko-tehnološki odjel Tehničkog fakulteta u Zagrebu, gdje je i diplomirao (1951.). Neko vrijeme radi u Institutu za naftu kao voditelj Laboratorija za analitičku destilaciju. Doktorirao je na Prirodoslovno-matematičkom fakultetu tezom Kemija i stereokemija aminoalkilglioksala kod K. Balenovića (1957.), a habilitirao na Tehnološkom fakultetu temom  Struktura akonit alkaloida delkosina i delsolina i njihova korelacija s lajkoktoninom (1960.). Od 1953. radi na Institutu "Ruđer Bošković", najprije kao asistent (1953.-1957) a od 1961. je  voditelj Laboratorija za stereokemiju i prirodne spojeve Instituta "Ruđer Bošković", gdje je bio i Predsjednik Poslovodnog odbora (1964.-1966.), predsjednik Znanstvenog vijeća u nekoliko mandata i direktor (1966.-1974.). Od 1970. je znanstveni savjetnik tog Instituta. Istodobno djeluje kao voditelj smjera Organska kemija na poslijediplomskom studiju Prirodoslovno-matematičkog fakulteta i vodi kolegij Oligonukleotidi i nukleinske kiseline. Od 1988. do 1991. bio je prorektor za znanost Sveučilišta u Zagrebu te niz godina predsjednik Odbora za koordinaciju rada matičnih povjerenstava Zajednice hrvatskih sveučilišta. U Institutu "Ruđer Bošković" ostaje do 1993., kada se zbog teške bolesti povukao u mirovinu.
Boravio je na poslijedoktorskoj specijalizaciji u laboratorijima National Research Councila u Ottavi (Kanada) kod L. Mariona (1957.-1959.) te na Harvard univerzitetu (Cambridge, SAD), kod Roberta B. Woodwarda (1960.-1961.), dobitnika Nobelove nagrade za kemiju.
U početku se bavio kemijom porfirina i klorofila, a potom istražuje nepoznatu skupinu fiziološki zanimljivih tetrahidroindazolonskih i aminociklohesenskih kiselina te pripadnih peptida, određujući NMR-om njihovu konformaciju. Nakon toga radi na području neuobičajenih heterocikličkih komponenata polinukleotida, nukleozida, peptidilnukleozida, nazasićenih nukleozida i anhidrodehidronukleozida te ispituje njihova antivirusna, karcinostatska i antibiotska svojstva. Glavninu njegova rada čine istraživanja s područja organske preparativne kemije i stereokemije prirodnih spojeva. Niz godina je surađivao s Plivom na području preparativnih modifikacija tetraciklinskih antibiotika. Surađivao je i sa sudobitnikom Nobelove nagrade za kemiju Jean-Marie Lehnom na problemima vezanim uz sintetske makrocikličke receptore u interakcijama s nukleo-bazama, nukleotidima i analognim spojevima. Objavio je preko stotinu radova i zajedno sa suradnicima prijavio 26 patenata iz područja antibiotika, peptida i srodnih bioaktivnih spojeva.
Od 1953. Član je Hrvatskog kemijskog društva, od 1955. Hrvatskog društva kemijskih inženjera i tehnologa, od 1960. Association of Harvard Chemists, od 1969. The Royal Society odf Chemistry, od 1972. Akademie der Wissenschaften und Literatur-Mainz, a od 1975. Schweizerische Chemische Gesellschaft.
Od 1969. do 1974. bio je zastupnik u Saboru SRH i predsjednik njegova Odbora za visoko školstvo i znanost. Od 1991. član je Družbe "Braća Hrvatskoga Zmaja". Od 1977. najprije je član suradnik, od 1986. izvanredni, a od 1991. redoviti član Hrvatske akademije znanosti i umjetnosti u kojoj je djelovao i kao tajnik njezina Razreda za matematičke, fizičke, kemijske i tehničke znanosti (1991.-1994.). Djelovao je i kao član uredništva i uredničkih savjeta časopisa: Croatica Chemica Acta, Arhiv za higijenu rada i toksikologiju, Kemija u industriji i European Journal of Bichemistry.
Dobitnik je Državne nagrade za znanost "Ruđer Bošković" (1978.) i Nagrade za životno djelo (1990.).
priredila prof.dr.sc. Snježana Paušek Baždar