Rothe Hans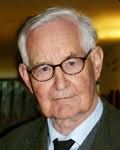 Date of birth:
Place of birth:
Deceased:
March, 31, 2021, in Bonn, Germany
Rothe Hans
Academic titles:
Membership in Academy:
corresponding member – Department of Literature (05/12/1994 – 03/31/2021)
---
Hans Rothe, njemački slavist, rođen je u Berlinu 5. svibnja 1928. Maturirao je 1947. u Hamburgu, studirao u Kielu, Marburgu/L. i Londonu (1947. – 1953.) slavistiku, indoeuropeistiku i crkvenu povijest. Doktorirao je 1954. u Kielu. Od 1954. do 1963. bio je asistent za slavistiku u Marburgu/L., gdje je habilitirao 1963. Na Slobodnom Sveučilištu Berlin predaje 1964. godine. Od 1966. do 1993., kada je emeritiran, bio je na čelu Slavističkog seminara u Bonnu. Objavio je preko 100 znanstvenih radova iz različitih slavističkih područja. Posebno su zapaženi njegovi radovi iz starohrvatske, humanističke i renesansne hrvatske književnosti. Bio je nakladnik i pokretač temeljnih njemačkih slavističkih publikacija Bausteine zur Geschichte der Literatur bei den Slaven, Slavistische Forschungen, Biblia Slavica, Schriften des Komittees der Bundesrepublik Deutschland zur Förderung der slawischen Studien, Mitteldeutsche Forschungen. Redoviti je član Sjevernorajnsko-vestfalske akademije znanosti i umjetnosti (od 1979), dopisni član Akademije znanosti u Göttingenu,  Poljske akademije umjetnosti u Krakovu i Poljske akademije znanosti (od 1991.), član Collegium Carolinum u Münchenu, Herderovog vijeća za istraživanje Marburg, Međunarodnog odbora slavista i drugih. Za dopisnog člana HAZU izabran je 1994.