Badinter Robert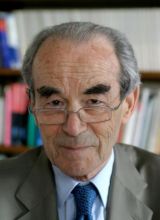 Date of birth:
Place of birth:
Badinter Robert
Academic titles:
Membership in the Academy:
correspondent member – Department of Social Sciences (4/15/2014 – …)
---
Curriculum Vitae
Robert Badinter, a French lawyer and politician, was born on March 30, 1928 in Paris. After diplomas obtained from the Faculty of Humanities and Social Sciences (1947) and the Faculty of Law (1948) Sorbone University, received his master's degree from Columbia University in New York (1949). He holds a PhD in law. He actively worked at Sorbone University from 1974 to 1994; today professor is emeritus. He was Minister of Justice 1981-1986, and during that time he distinguished himself by abolishing the death penalty, military courts in times of peace, improving the rights of victims in criminal justice and introducing community service as a substitute for imprisonment. From 1986 to 1995 he was president of the Constitutional Court, and from 1995 he was a member of the Senate of the French Republic.
After 1989, he became involved in solving constitutional problems in the new democratic countries of Central and Eastern Europe. He was president of the five-member Arbitration Commission of the Conference for Peace in the former Yugoslavia (from 27 August 1991). From November 1991 to August 1993 the Commission adopted 15 legal opinions on the holder of the right to self-determination of peoples, the dissolution and succession of states, the principles, and criteria for the process of designing and recognition of new states, the prohibition of the use of force in the definition of international borders, respect for minority rights, and others. The work of the Arbitration Commission, and therefore Professor Badinter, contributed significantly to the international legal recognition of the sovereign state of Croatia and the admission of the Republic of Croatia to the United Nations.
He has written a dozen notable books in the fields of constitutional and criminal law, political theory, penology and sociology, and many scientific and professional articles. Highlights include books declaring against the death penalty L'exécution (Execution) 1973, and L'Abolition (Abolition of the Death Penalty) in 2000.
His works in the field of penology and the constitutional and political history of France were written with great erudition and argumentative force and are an indispensable reading for the study of the history of the French Revolution, the history of the French prison sentence, the position of Jews in the vichyan era of France and especially modern abolitionism.
Since 2014 he is  a
correspondent
member
of
the
Hroatian Academy of Sciences and Arts, and
in 2003 he was elected
honorary
doctor
of
the
University
of
Zagreb.