Pusić Eugen, F.C.A.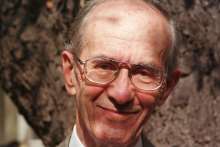 Datum rođenja:
Mjesto rođenja:
Datum smrti:
Mjesto smrti:
Pusić Eugen, F.C.A.
Akademske titule:
Institucije:
redoviti profesor u miru – Pravni fakultet Sveučilišta u Zagrebu
professor emeritus – Pravni fakultet Sveučilišta u Zagrebu
dopisni član – Slovenska akademija znanosti i umjetnosti (07.06.2001. – 20.09.2010.)
dopisni član – Crnogorska akademija znanosti i umjetnosti (15.12.2006. – 20.09.2010.)
Funkcije u Akademiji:
voditelj – Kabinet za pravne, političke i sociološke znanosti "Juraj Križanić" (26.11.2008. – 20.09.2010.)
Članstvo u Akademiji:
redoviti član – Razred za društvene znanosti (09.06.1983. – 20.09.2010)
izvanredni član – Razred za društvene znanosti (06.06.1975. – 09.06.1983.)
Rođen u Zagrebu 1. srpnja 1916. Diplomirao i doktorirao na Pravnom fakultetu u Zagrebu 1939. Načelnik Odjela za socijalne poslove Gradskog narodnog odbora Zagreb 1945-1946, Načelnik odjela i pomoćnik republičkog sekretara za narodno zdravlje i socijalnu politiku NR Hrvatske 1946-1955. Izabran za predavača 1955, za docenta 1957, za izvanrednog profesora 1961. i 1965. godine za redovnog profesora Pravnog fakulteta u Zagrebu na predmetu Nauka o upravi. Umirovljen 1986. godine. Izabran za izvanrednog člana Jugoslavenske (sada Hrvatske) akademije znanosti i umjetnosti 1975, a za redovnog člana 1983. godine.
Predavao kao pozvani nastavnik (visiting professor) na University of Manchester 1963, University of California, Berkeley 1969, University of Pennsylvania, Philadelphia 1970, University of Chicago 1972. Znanstveni član (fellow) Institute of Social Studies, Den Haag; znanstveni član (fellow) Center for Advanced Study in the Behavioral Sciences, Stanford. Radio kao pozvani znanstvenik (guest scholar) na Woodrow Wilson Center for Scholars 1981.
Objavio 35 knjiga i preko 1300 znanstvenih, stručnih i preglednih članaka, prikaza i recenzija. Nagrađen nagradom "Božidar Adžija" 1965. za knjigu "Lokalna zajednica", međunarodnom nagradom "Rene Sand" 1970. za doprinos socijalnoj politici u svijetu, nagradom Službenog lista SFRJ 1985. za knjigu "Upravni sistemi", nagradom "Dr. Vladimir Bakarić" 1990. za knjigu "Društvena regulacija" i godine 1985. Republičkom nagradom za životno djelo.
Ekspert Ujedinjenih nacija za socijalna pitanja u više navrata, savjetnik glavnog tajnika OUN za organizaciju tehničke pomoći u socijalnim službama 1964-1965. Član Izvršnog odbora 1956-1960, potpredsjednik 1960-1964 i predsjednik 1964-1968 International Council on Social Welfare. Predsjednik Saveza republičkih udruženja za upravne nauke i praksu 1976-1980.