Munjiza Ante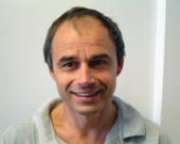 Datum rođenja:
Mjesto rođenja:
E-mail adrese:
Munjiza Ante
Akademske titule:
Članstvo u Akademiji:
dopisni član – Razred za tehničke znanosti (10.05.2012. – …)
Ante MUNJIZA rođen je u Trogiru 1960. Na Građevinskom fakultetu u Splitu diplomirao je 1984., u Zagrebu je magistrirao 1989., na Sveučilištu u Walesu (University of Wales, Swansea, Ujedinjena Kraljevina) doktorirao je 1992., a u razdoblju 1992. – 1993. pohađao je poslijedoktorski studij na Tehnološkom institutu države Massachusets (Institute of Technology in Massachusetts – MIT, Cambridge, SAD). Redovni je profesor na Fakultetu građevinarstva, arhitekture i geodezije u Splitu na katedri Teorija konstrukcija te na poslijediplomskom sveučilišnom studiju građevinarstva s kolegijima Informacijsko inženjerstvo i Mehanika diskontinuiranih sredina; uključen je u multidisciplinarni doktorski studij u Splitu. Dosad je bio mentor pri izradi brojnih studentskih radova i 40-ak doktorskih disertacija širom svijeta.
Dr. sc. A. Munjiza 2004. je izabran za znanstvenika u Nacionalnom laboratoriju u Los Alamosu (Los Alamos National Laboratory) u SAD-u, iste godine za izvanrednog profesora iz računalne geoznanosti na Kraljevskom koledžu (Imperial College) u Londonu te 2005. za redovnog profesora na Sveučilištu u Londonu (University of London), gdje osniva Laboratorij za virtualno eksperimentiranje. Na Sveučilištu pokrajine Tahoku (Tahoku University) u Japanu završio je specijalizaciju iz potresnog inženjerstva (1989. – 1990.), boravio je na MIT-u u SAD-u, gdje je radio u Laboratoriju za inteligentne inženjerske sustave, zatim na Sveučilištu u Londonu i na Kraljevskom koledžu u Londonu, a predaje na doktorskom studiju na Sveučilištu u Torontu (University of Toronto) te surađuje na znanstvenim projektima s brojnim međunarodnim istraživačkim skupinama iz Nacionalnog laboratorija Lawrence Livermore (Lawrence Livermore National laboratory), sa Sveučilišta u Birminghamu (University of Birmingham) te sa sveučilištā u Kini, Tajvanu i Italiji. Njegova metoda konačno-diskretnih elemenata, koju je kompanija Rockfield Software prihvatila kao tržišni paket ELFEN, danas se primjenjuje u rudarstvu, geotehnici, geoznanosti, konstrukcijama, naftnom inženjerstvu, vojnom inženjerstvu i drugim područjima. Osim navedene metode razvio je i brojne druge, a neke su nazvane po njemu (npr. Munjiza-NBS; Munjiza-Rougier pretraživanja).
Na Sveučilištu u Splitu osnovao je istraživačku skupinu koja uključuje doktorande, docente i profesore. Sve istraživačke skupine koje je osnovao i s kojima surađuje temelje se na metodi konačno-diskretnih elemenata i na tzv. open source softwareu, koji je dr. Munjiza razvio. Autor je ili suaotor pet knjiga koje su objavili svjetski izdavači kao što je primjerice Wiley & Sons. Objavio je 150 znanstvenih članaka i održao više od 50 izlaganja na znanstvenim i stručnim skupovima od kojih su brojna bila pozvana ili uvodna te objavljena u kongresnim zbornicima. Radovi su mu dosad citirani 550 puta. Član je uredništva u više međunarodnih časopisa. Za dopisnog člana HAZU izabran je 2012.
Za više podataka: http://gradst.unist.hr/o-fakultetu/adresar-imenik/agenttype/view/propertyid/1752