Mrkonjić Zvonimir, F.C.A.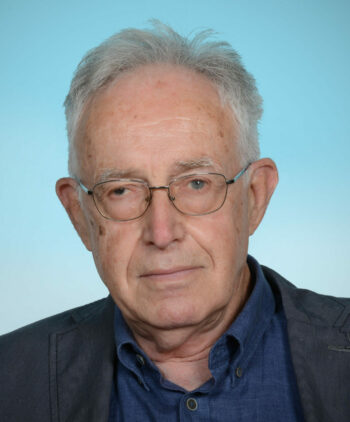 Date of birth:
Place of birth:
Addresses:
Trg Nikole Šubića Zrinskog 11, 10000 Zagreb
Phones:
Department of Literature +385 01 4895 169
Emails:
Mrkonjić Zvonimir, F.C.A.
Academic titles:
fellow of the Croatian Academy of Sciences and Arts
Membership in Academy:
full member – Department of Literature (05/18/2006 – …)
associate member – Department of Literature (05/16/2002 – 05/18/2006)
---
Zvonimir Mrkonjić, Croatian writer and translator was born in Split on June 6, 1938. He graduated in comparative literature and French language and literature from the Faculty of Humanities and Social Sciences in Zagreb and studied directing at the Academy of Dramatic Art in Zagreb. He was a member of the Telegram and Prologue editorial offices and worked as a playwright at the Gavella Drama Theatre. He has been a full member of the CASA since 2006, and in 2008 received the Vladimir Nazor Lifetime Achievement Award.
A prominent translator (F. Hölderlin, S. Mallarmé, R.M. Rilke, A. Rimbaud, etc.) and methodologically rigorous analyst and critic of poetry, Mrkonjić has achieved one of the most notable poetic and critical oeuvres in contemporary Croatian literature. In writing about poetry, he moves in the spirit of R. Barthes (whose Pleasure in text he translated in 2004), structuralism and French theory of the text, so his critical apparatus produces philosophically and conceptually burdensome paradigmatic categories in the spirit of his role models.
His most important critical work is the two-part Suvremeno hrvatsko pjesništvo (1971), composed of an anthology and an accompanying analytical book. The same guidelines follow other books (Izum beskraja, 1971; Sustav i slika, 1980; Izvanredno stanje, 1991; Prijevoji pjesništva, I–II, 2006), his ongoing critique and essays, and the controversial anthology Međaši (2004). His poetic creation is determined by his own conceptual horizon and is conscious of poetry theory produced by its author.
His other significant works are Gdje je što (1962), Zemljovid (1964), Dan (1968), Knjiga mijena (1972), Bjelodano crnonoćno (1976), Nadnevak (1977), Zvonjelice (1980), Pisma u bijelo (1989), Put u Dalj (1992), Šipanski soneti (1992), San, magla i ništa (1996), Kao trava (1998), Gonetanje gomile (2002), and  Ogledalo mahnitosti, 1985.