Mihanović-Salopek Hrvojka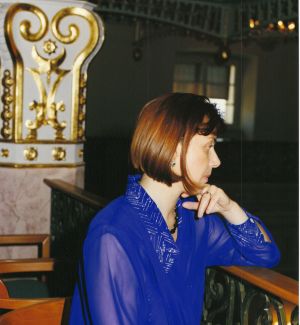 Datum rođenja:
Mjesto rođenja:
Adrese:
Zavod za povijest hrvatske književnosti, kazališta i glazbe HAZU, Opatička 18, 10000 Zagreb
Njegoševa 6, 10000 Zagreb
Telefoni:
+385(0)14895315
+385(0)12442606
+0989044633
E-mail adrese:
Mihanović-Salopek Hrvojka
Akademske titule:
Institucije:
znanstveni savjetnik – Zavod za povijest hrvatske književnosti, kazališta i glazbe Hrvatske akademije znanosti i umjetnosti, Odsjek za povijest hrvatske književnosti
Biografski podaci:
Hrvojka Mihanović – Salopek  diplomirala je 1984. hrvatsku književnost i jezik na Filozofskom fakultetu Sveučilišta u Zagrebu. Na Filozofskom fakultetu je magistrirala 1990. s temom  Hrvatska himnodija od srednjeg vijeka do preporoda, a godine 1998. je doktorirala s temom Hrvatska crkvena himnodija 19. st. Od godine 1986. radi u Odsjeku za književnost, Zavoda za povijest hrvatske književnosti, kazališta i glazbe HAZU. Od 2002. u zvanju je  znanstvene suradnice, od 2008. u zvanju više znanstvene suradnice, od 2013. u zvanju znanstvene savjetnice te od 2018.  znanstvene savjetnice u trajnom zvanju. Honorarno je predavala na Odsjeku kroatologije na Ljetnoj školi Hrvatskih studija Sveučilišta u Zagrebu 2008./09., a  u akademskoj godini 2009./10. honorarno je predavala kolegij Himnologija na Katoličkom bogoslovnom fakultetu Sveučilišta u Zagrebu. Na doktorskom studiju Hrvatskih studija Sveučilišta u Zagrebu honorarno je predavala 2017.
Godine 1997. izabrana je za počasnu, dopisnu članicu Međunarodne Mariološke akademije u Rimu (Pontificia Academia Mariana Internationalis).
Sudjelovala je na više znanstvenih projekata; (od 1986. do 1989. na  znanstvenom projektu) Sabrana djela Ante Kovačića; (od 1991. do 2001. na znanstvenom projektu) Sabrana djela Milana Begovića u 24 sveska, a sada je suradnica na znanstvenom projektu HAZU Hrvatski književni povjesničari.
Od 2007. do 2019. vodila je međunarodni bilateralni projekt Doprinos hrvatskih i bugarskih intelektualaca duhovnoj raznovrsnosti Europe, između HAZU i Bugarske akademije nauka (BAN). Bila je voditeljica međunarodnih znanstvenih skupova u okviru manifestacije Dvigrad – međunarodni festival rane glazbe u Istri pod pokroviteljstvom Predsjednika RH. Služi se engleskim jezikom.
Napisala je 10 autorskih znanstvenih knjiga:
1. Hrvatska himnodija (od srednjeg vijeka do preporoda), (167 str.) Književni krug, Split, 1992.;
2. Hrvatska crkvena himnodija 19. stoljeća,  Biblioteka "Scientiae et Artes", "ALFA", Zagreb, 2000. (339 str.);
3.Tihi pregaoci visovačko-skradinskog područja (Doprinos franjevaca hrvatskoj himnodiji i duhovnoj književnosti), izdanje Franjevačke provincije Presvetoga Otkupitelja, Biblioteka "Ravnokotarski Cvit", knj. br.15, Split, 2004. ( 96 str.);
4. Iz duhovnog perivoja,  Biblioteka "Posebna izdanja", "Ljevak" – Zagreb, 2006. (293 str.);  5. Doprinos Petra Kanavelića hrvatskoj pasionskoj baštini,  (u suautorstvu s dr. Vinicijem Lupisom) Ogranak Matice hrvatske Split, Split, 2009., (303 str.);
6. Željezni duh. Doprinos Jakete Palmotića Dionorića hrvatskoj književnoj baštini, (u suautorstvu s dr. Vinicijem Lupisom), Institut «Ivo Pilar» u Dubrovniku, Zagreb – Dubrovnik, 2010.,
7. U ogledalu kritike, "Udruga Prosoli", Zagreb, 2012./13.
8. Fra Petar Knežević – Gospin pjesnik i književnik, ( u suatorstvu s dr. sc. Hanom Breko-Kustura i fra Mirkom Marićem); Ogranak Matice hrvatske u Sinju, Sinj, 2017.
9.  U ogledalu znanstvenih prosudbi, «Biakova», Zagreb, 2018.
10. Kristalni plov (umjetnička djelatnost Branke Beretovac, prvakinje HNK u Zagrebu), Biakova d.o.o., Zagreb, 2019.
Priredila je 36 knjiga izabranih djela, monografija i zbornika radova. Objavila je  107 izvornih znanstvenih radova u inozemnim i domaćim časopisima i zbornicima i preko 250 stručnih radova. Uvrštena je u leksikon Who is who in Croatia, 1993. str. 480 i u Književnu enciklopediju Leksikografskog zavoda, sv. III, str. 79.
Sa znanstvenim predavanjima sudjelovala je na više međunarodnih skupova: na mariološkom kongresu u Kevelaeru (Njemačka) 1987.; u Huelvi kod Seville (Španjolska) 1992.; u Čenstohovi-Poljska, 1996.; u Rimu, 2000. i 2004.; u Lourdesu (Francuska, 2008.), na Međunarodnom slavističkom kongresu ("American Association for the Advancement of Slavic Studies") u Bostonu- SAD, 1996.;  na Međunarodnom kroatističkom skupu Katedre za slavističku filologiju Filozof. fakulteta Sveučilišta "Lorand Eötvös" u Budimpešti 2003.; na slavističkom skupu u Pečuhu 2002.; na Međunarodnoj bugarsko-hrvatskoj konferenciji u Sofiji 2008., 2011., 2013., 2015.2017.; na Međunarodnom simpoziju u Čiprovcima, 2009.; na Međunarodnom simpoziju o Ivi Frangešu u Trstu, 2012.; na Međunarodnom simpoziju u Petrovaradinu i Novom Sadu, 2015.
Također često sudjeluje i na brojnim domaćim međunarodnim, slavističkim i kroatističkim znanstvenim skupovima, npr.:"Dani hvarskog kazališta";  Isusovci u vjerskom, znanstvenom i kulturnom životu Hrvata; Recepcija Milana Begovića; Religijske teme u književnosti; Hrvatski književni barok i slavonska književnost 18. stoljeća; Književnost u Osijeku i o Osijeku od početaka do danas; Skup o Andriji Kačiću – Miošiću, Strossmayerovi dani, "Hrvatski književni povjesničari" (znanstveni skupovi o Franji Fancevu, Tomi Matiću, Albertu Haleru, Branku Drechsleru Vodniku, Ivanu Milčetiću, Milanu Rešetaru, Šimi Ljubiću, Ivi Frangešu, Antunu Barcu, Đuri Šurminu, Miloradu Mediniju, Slavku Ježiću i dr.), na simpozijima o Tomi Babiću, Petru Kneževiću, Josipu Banovcu, Petru Bačiću, Ivanu Ančiću, Emeriku Paviću, "Nazorovi dani" (Postire, 1996. i 1999.), na Međunarodnom znanstv. interdisciplinarnom simpoziju  Hrvatska folklorna i etnografska baština u svjetlu dubrovačke, svjetske i turističke sadašnjosti u Dubrovniku, 2012. i 2013; na međunarodnom skupu «Pasionska baština» u Subotici 2013.; te na stručnim skupovima "Dani Josipa i Ivana Kozarca" u Vinkovcima, "Đakovački susreti hrvatskih književnih kritičara", književni susreti "Dobrojutro more" (Podstrana kod Splita),"Kačićevi dani", "Croatia rediviva" (Brač), «Struške književne večeri» (Makedonija) itd.
Bila je višegodišnji honorarni suradnik Znanstveno-obrazovnog programa HRTV na kojem je kao scenaristica realizirala više emisija i književnih portreta (Klanjam ti se kraljiću – hrvatske božićne pjesme; U smrti se sniva – hrvatske pjesme kroz povijest o smrti, Krkom uzvodno -književni portret  Nikole Pulića, Plemenita nit paučine – književni portret Višnje Stahuljak i dr.). Od 2005. je scenaristica,  redateljica i voditeljica projekta "Digitalno snimanje hrvatske mariološke baštine" pod pokroviteljstvom Odbora za obrazovanje, znanost i kulturu Hrvatskog sabora i Vijeća za kulturu Hrvatske biskupske konferencije, te je dosad ostvarila 12 znanstveno-obrazovnih  filmova na temu multidisciplinarnog prikaza marijanske baštine u pojedinim hrvatskim biskupijama i županijama. (Stella maris Hrvatskog zagorja (duhovno pjesništvo o Bogorodici), Stella maris sjevernog Jadrana  (duhovno pjesništvo o Bogorodici), Dubrovačka velika proteturica (marijanska baština Dubrovnika) Stella maris Dalmacije, 1. dio (marijanska baština u Splitsko-makarskoj nadbiskupiji), Stella maris Dalmacije, 2. dio (marijanska baština u Šibenskoj biskupiji) Stella maris Dalmacije, 3. dio (marijanska baština u Zadarskoj nadbiskupiji), Stella maris slavonskih žitnih polja (marijanska baština u Đakovačko-osječkoj nadbiskupiji), Stella maris južnih otoka (marijanska baština nekadašnje Korčulanske biskupije), Sisačka Majka milosrđa (marijanska baština Sisačke biskupije), Varaždinska Regina angelorum (marijanska baština Varaždinske biskupije), Lička  majka od utjehe (marijanska baština Gospićko-senjske biskupije),Zagrebačka Kamena Gospa ( marijanska baština Zagrebačke nadbiskupije).
Priredila je kao vanjski suradnik više stručnih jedinica za Hrvatski biografski leksikon, za Opću enciklopediju i Književnu enciklopediju Leksikografskog zavoda "Miroslav Krleža", te za Leksikon hrvatskih pisaca -"Školske knjige"2000. Popratila je predgovorom  više od 60 knjiga propisane lektire i novoobjavljene beletristike za sljedeće izdavačke kuće: "Ljevak", "Školska knjiga", "Mladost", "Znanje", "ABC – naklada", "Mozaik", "Laus", "Albatros" "Nova stvarnost", "Neretva", "Alfa", Naklada Bošković, «Privlačica d.o.o.», «Panonius», Naklada Haid, «Biakova d.o.o.» i dr. Za izdavačku kuću "Mozaik" priredila je za biblioteku "Zlatna lađa" dva priručnika za nastavnike (lektirna djela I.B.Mažuranić i V.Nazora).
Od 1988. do 1998. bila je član uredničko-redakcijskog odbora časopisa Umjetnost i dijete, a od 2003. do 2020. djeluje kao suradnica i povremeno urednica stručnog časopisa "Musica sacra" u Zagrebu. Od 2011. članica je Savjeta "Školskog vjesnika", pedagoškog časopisa Filozofskog fakulteta Sveučilišta u Splitu. Od 1995. do danas redovni je član  Nacionalnog odbora za dječju knjigu RH. Od 2018. član je redakcijskog vijeća za zbornike u izdanju Udruge Pasionska baština. Sudjeluje kao recenzent i  član-suradnik u radu međunarodnog uredništva redakcije bugarskog znanstvenog časopisa  Bulgarian Historical Review, Institute for Historical Studies (BAN) u Sofiji.
Članica je Društva hrvatskih književnika, članica Društva hrvatskih intelektualki (koje je punopravni član međunarodne organizacije International Federation of University Women sa sjedištem u Genevi). Od 2006. počasna je članica Matice slovačke u Zagrebu. Redovna je članica Hrvatskog mariološkog instituta pri KBF- u Sveuč. u Zagrebu. Od 2007. sudjeluje kao promotor i suorganizator u radu književnih i kulturnih tribina Hrvatske paneuropske unije u Zagrebu.
Usporedo s književnošću završila je 1984. studij orgulja na Institutu za crkvenu glazbu pri  Katoličkom bogoslovnom fakultetu Sveučilišta u Zagrebu. Član je Hrvatskog udruženja glazbenih umjetnika od 1986. godine.  Istakla se nizom zapaženih koncerata u domovini kao i u inozemstvu (Austrija, Francuska, Mađarska, Njemačka, Španjolska, Poljska, Češka, Argentina i SAD). Ostvarila je četiri CD-snimke u izdanju kuće HRT-"Orfej" i "Sveta glazba"d.o.o.
Dobitnica je brončane medalje "Mila Gojsalić" Društva Poljičana 2012.;
Nagrade "Petar Kanavelić" za 2016. godinu (Društva književnika Rijeka i Gradskog poglavarstva Korčule);
Srebrne povelje – nagrade Matice hrvatske Zagreb, 2009.  i 2018. za književnost;
Primila je "Posebno priznanje za nakladnički pothvat" za  Izabrana djela Miroslava S. Mađera I. – IV.   na Danima hrvatske knjige i riječi Zavoda za kulturu vojvođanskih Hrvata u Subotici 2019.
U  2019. godini  odlikovana je ordenom Hrvatskog pletera za promicanje hrvatske kulture.