Maković Zvonko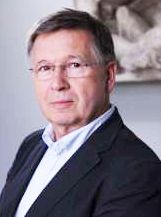 Date of birth:
Place of birth:
Emails:
Maković Zvonko
Academic titles:
Institutions:
Professor – Department of Art history, Faculty of Arts and Sciences, University of Zagreb
Membership in Academy:
associate member – Department of Fine Arts (05/18/2006 – …)
---
Curriculum Vitae
Zvonko Maković, Croatian poet, essayist, and historian was born in Budrovci near Đakovo on February 6, 1947. He graduated in 1973 in comparative literature and art history and received his Doctorate in 1996 from the Faculty of Humanities and Social Sciences in Zagreb, where from 1975 until his retirement in 2012 he taught at the Department of Art History. He has been a full professor since 2008.
He edited Studentski list, Tlo, Telegram, Most, Oko, Život umjetnosti. He won the Goran Wreath Award for his entire poetic oeuvre (2001). He publishes art reviews, essays and studies, mostly on contemporary art, and is the author of the text or foreword in numerous catalogues and monographs (Ljubo Ivančić, Julije Knifer, Vasko Lipovac, Edo Murtić, Miroslav Šutej, Milivoj Uzelac).
---
Bibliography