Lebič Lojze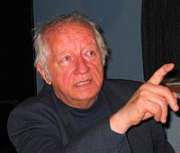 Datum rođenja:
Mjesto rođenja:
E-mail adrese:
Lebič Lojze
Članstvo u Akademiji:
dopisni član – Razred za glazbenu umjetnost i muzikologiju (10.05.2012. – …)
Lojze LEBIČ, slovenski skladatelj, dirigent, pedagog i arheolog, rođen je 23. kolovoza 1934. u Prevalju. Arheologiju je diplomirao 1957. na Sveučilištu u Ljubljani. Istodobno je studirao glazbu na Akademiji za glazbu, i to dirigiranje s Danilom Švarom i skladanje s Marjanom Kozinom. Diplomirao je 1972. Od 1962. do 1972. vodio je Komorni zbor Ljubljanske radiotelevizije. Taj je zbor snimao za različite inozemne producente, za što je također primio brojna priznanja – tako mu je 1972. godine primjerice dodijeljena plaketa BBC-a za najbolju izvedbu suvremene skladbe na natjecanju Let the Peoples Sing.
Nakon intenzivne i kritičke konfrontacije sa suvremenim trendovima u skladanju Lebič je razvio vlastiti način izražavanja koji se proteže od silovitosti zvuka i kontrolirane meditacije do kozmopolitskog modernizma i njegova vlastita osjećaja za naslijeđe tradicionalnih kultura i civilizacija.
U opusu su mu najvažnija vokalna i instrumentalna djela, npr. Požgana trava, za glas i orkestar, Sinfonietta, Miti in apokrifi, za basbariton i orkestar, Queensland Music za orkestar, Glasovi, za orkestar, Korant, za orkestar, Nicina, za orkestar, Sentence, za dva klavira i orkestar, Novembrske pesmi, za glas i orkestar, Uvertira, za tri instrumentalne skupine, Simfonija s orguljama, Puer natus, za basbariton i orkestar, Musica concertata, za rog i orkestar i druga.
Skladbe mu se izvode na mnogim renomiranim festivalima u svijetu, a uspješno surađuje i s nizom vrsnih izvođača i ansambala. Tri je puta nagrađen Prešernovom nagradom. Njegove Novembrske pesmi uvrštene su među deset najuspjelijih skladbi na manifestaciji International Rostrum of Composers UNESCO-a u Parizu 1985. godine. Od 1995. je redoviti član Slovenske akademije znanosti i umjetnosti.
Za dopisnog člana Hrvatske akademije znanosti i umjetnosti u Razredu za glazbenu umjetnost i muzikologiju izabran je 2012.
Za više podataka: http://www2.arnes.si/~hlebic/