Lebič Lojze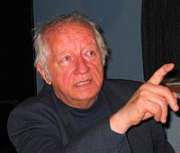 Date of birth:
Place of birth:
Emails:
Lebič Lojze
Membership in the Academy:
corresponding member – Department of Music and Musiclology (5/10/2012 – …)
---
Curriculum Vitae
Lojze Lebič, Slovenian composer, conductor, pedagogue, and archaeologist, was born on August 23, 1934, in Prevalje. He graduated archaeology in 1957 from the University of Ljubljana. At the same time, he studied music at the Academy of Music, conducting with Danilo Švar and composing with Marjan Kozin. He graduated in 1972. From 1962 to 1972 he led the Chamber Choir of the Ljubljana Radio and Television. This choir recorded for various foreign producers, for which he also received numerous awards – so in 1972, for example, was was awarded a BBC plaque for the best performance of a contemporary composition at the Let the Peoples Sing competition.
After intense and critical confrontation with contemporary trends in composing, Lebič developed his own way of expressing himself, which ranges from the forcefulness of sound and controlled meditation to cosmopolitan modernism and his own sense of heritage of traditional cultures and civilizations.
His oeuvre includes his most important vocal and instrumental works, e.g. Požgana trava for voice and orchestra, Sinfonietta, Miti in apokrifi for basbariton and orchestra, Queensland Music for orchestra, Glasovi for orchestra, Korant for orchestra, Nicina for orchestra,  Sentence for two pianos and orchestra, Novembrske pesmi for voice and orchestra, Uvertira for three instrumental groups, Simfonija s orguljama, Puer natus for basbariton and orchestra, Musica concertata for horn and orchestra and others.
His compositions are performed at many renowned festivals in the world, and he successfully collaborates with a number of excellent performers and ensembles. He was awarded the Presern Prize three times. His November songs were included among the ten most successful compositions at  the International Rostrum of Composers UNESCO event in Paris in 1985. Since 1995, he has been a full member of the Slovenian Academy of Sciences and Arts.
He was elected as a corresponding member member of the Croatian Academy of Sciences and Arts in the Class for Music Arts and Musicology in 2012.