Kaštelan Lada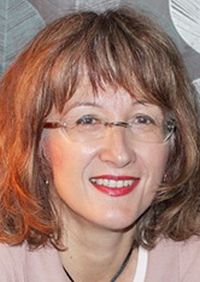 Date of birth:
Place of birth:
Kaštelan Lada
Institutions:
professor – Academy of Dramatic Arts (06/01/2007 – …)
Membership in Academy:
associate member – Department of Literature (05/12/2016 – …)
---
Curriculum Vitae
Lada Kaštelan, a Croatian writer and playwright, was born in Zagreb, May 2, 1961. Graduated in classical philology in 1983 from the Faculty of Humanities and Social Sciences and Dramaturgy in 1984 at the Academy of Dramatic Art in Zagreb. Since 1987, she has been a playwright at the Croatian National Theatre in Zagreb, and she also collaborates with other theatres. Since 2001 he has been teaching at the Academy of Dramatic Art.
Her first published book was the collection of poems Hrana za ptice (1978). She writes television and film scripts, radiodramas, and is engaged in translation (Euripides, Sophocles, Aristophanes) and reworkings of Greek plays (Pred vratima Hada: dramske preradbe Euripida, 1993). Her dramatic texts (A tek se vjenčali, Adagio, Posljednja karika, Giga i njezini, Prije sna) since 1980 have been performed in Croatian theatres, and have also been published in books (Četiri drame, 1997; Prije sna, 2007). The critics evaluated her dramatic manuscript as one of the most interesting in the context of the generation, but also in the context of Croatian dramatic writing at the end of the 20th century.