Hraste Kažimir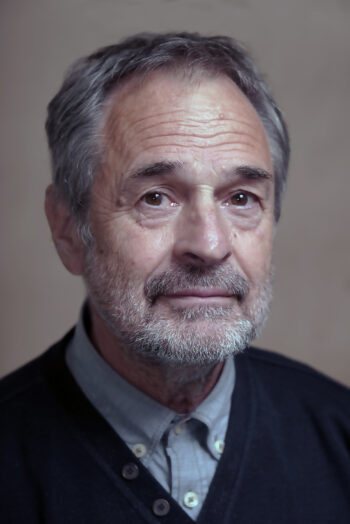 Date of birth:
Place of birth:
Supetar, island of Brač, Splitsko-dalmatinska County
Addresses:
Umjetnička akademija, Zagrebačka 3, 21 000 Split
Phones:
Umjetnička akademija +385 21 360 178
E-mails:
Hraste Kažimir
Academic titles:
Membership in Academy:
associate member – Department of Fine Arts (05/10/2012 – …)
---
Biography
Kažimir Hraste was born on February 2, 1954, in Supetar, the island of Brač. In 1972 he finished the School of Applied Art, Split. In 1979 he gained a degree in Sculpture from the Academy of Fine Art, Zagreb, where he studied under the guidance of sculptor Valerije Michieli. He continued his studies at the Academy of Fine Art, Ljubljana by attending a two year specialist (MFA) sculpture course. In 1989 he spent a semester in Rome as a recipient of the Italian Government scholarship for professional development. He has showed his work in about forty solo and many group exhibitions, producing several public monuments and sculptures. His works are to be found in private as well as public collections. He is also a successful medallist and author of several commemorative coins issued by the Croatian National Bank. He has tried his hand at graphic design (posters, book covers, logos), having shaped the visual identity of the Festival of the Dalmatian Klapas in Omiš for some thirty years. For his work has received several awards and prizes. He is one of the founders and the first dean of the Arts Academy, Split, where he currently works as a tenured professor. From 2003 to 2015 he taught Drawing and Modelling at the Faculty of Civil Engineering, Architecture and Geodesy, Split. His artistic work is the subject of a documentary film produced and broadcast by the Croatian Radio-Television (HRT) and his work has been written about by established Croatian art critics, including academicians Cvito Fisković, Kruno Prijatelj, Tonko Maroević and Radoslav Tomić. In 2012 he received a monograph written by Josip Belamarić and Ive Šimat Banov. Since 2012 he has been an associate member of the Croatian Academy of Sciences and Arts.
Education:
A semester of professional development in Rome, Italy: scholarship of the Italian Government (1990)
Academy of Fine Art, University of Ljubljana, Slovenia (1982-1984)
Academy of Fine Art, University of Zagreb (1974 -1978)
School of Applied Arts, Split (1968-1972)
Academic promotions:
2001- tenured professor
1995 – full professor
1990 – associate professor
1985 – assistant professor
1980 – graduate teaching assistant
University courses:
Sculpture I-IV
Drawing I-II
Modelling I-II
Social and Public activities:
President of the Parent Committee for the Election to Titles in the Areas and Fields of Art (2017-2021), (2021- )
Member of the University of Split Senate (2018- )
University of Split Rector's advisor for culture (2018- )
Member of the Commission for the Selection of Design Proposals for the National Side of the Republic of Croatia on Euro Circulation Coins (2021)
Member of the Croatian Association of Artists, Split (1980 – )
---
Solo exhibitions
2021 Zagreb, Art Pavilion. Two Works, Three Authors, the Cycle: Art in Front of the Art Pavilion
2019 Split, Kula Gallery. Cruiser
2018 Split, 21 Gallery, Homage to Dražen Petrović
2016 Split, Meštrović Gallery. Kažimir Hraste Hosted by Meštrović, the Cycle: An Artist Hosted by Meštrović
2014 Zagreb, Glyptotheque of the Croatian Academy of Sciences and Arts. Kažimir Hraste
2012 Split, Gallery of Fine Art. Kažimir Hraste and Siniša Majkus, One on One Cycle
2012 Split, Institute of the Croatian Academy of Sciences and Arts. Kažimir Hraste and Kuzma Kovačić
2007 Zagreb, Forum Gallery. Kažimir Hraste
2004 Mostar, Aluminij Gallery. Kažimir Hraste
2004 Kotor, Cultural Centre Gallery. Kažimir Hraste
2003 Zagreb, Josip Račić Studio of the Gallery of Modern Art. New Building
2003 Hvar, Arsenal Gallery. Kažimir Hraste
2003 Beč, Porcia Gallery. Four Sculptors of Island Hvar
2002 Szentendre, Hungary, Mlinumjetnosti, Four Sculptors of Island Hvar
2001 Stari Grad, Tvrdalj, Four Sculptors of Island Hvar
2001 Split, Gallery of Fine Art, Four Sculptors of Island Hvar
2001 Zadar, Art Gallery, Four Sculptors of Island Hvar
1998 Zagreb, Klovićevi dvori Museum and Gallery Centre. Hraste
1998 Šibenik, St. Krševan Gallery. Kažimir Hraste
1998 Supetar, Ivan Rendić Gallery. Kažimir Hraste
1997 Zagreb, Glyptotheque of the Croatian Academy of Sciences and Arts. Kažimir Hraste: a Sculpture Exhibition
1996 Omiš, Church of the Holy Spirit. Kažimir Hraste and Gorki Žuvela
1992 Split, Gallery of Photography. Hraste: Drawings
1991 Zagreb, Fortezza Museum and Gallery Centre, In Memory of Jure Kaštelan
1991 Split, Milesi Palace, In Memory of Jure Kaštelan
1990 Rieti, Italy, S. Pietro Church. Kažimir Hraste: scultura
1990 Zagreb, Vatroslav Lisinski Concert Hall, Foyer. Kažimir Hraste
1988 Zagreb, Forum Gallery. Kažimir Hraste
1998 Split, Protiron Gallery. Kažimir Hraste
1987 Terminillo, Italy, Palazzo del Turismo. Kažimir Hraste
1986 Split, Museum of the People's Revolution. Kažimir Hraste
1985 Split, Galić Salon. Kažimir Hraste: Portraits
1985 Rieti, Airport, the art exhibition accompanying the 19th World Gliding Championships. Kažimir Hraste
1984 Split, Photo Club Gallery. Kažimir Hraste: Drawings
1983 Šibenik, Croatian National Theatre, Foyer. Kažimir Hraste
1982 Split, Galić Salon. Kažimir Hraste
1978 Split, Club of the Youth Forum. Kažimir Hraste: Portraits
1976 Omiš. Three Sculptures in Front of the Turjun Cafe
1974 Omiš. Four Sculptures in the City Piazza
Public monuments and public sculpture
2020 Šibenik. The Boy with an Umbrella, sculpture
2019 Zakučac near Omiš. St. Anthony, statue
2018 Split. Plaque with the head of Croatian politician Ante Trumbić
2017 Bol. Memorial to the fallen for the Homeland
Dugopolje, Vranjača cave, St. Anthony, statue
Lokve, M.K. (Miroslav Krleža), statue
Ravna Gora, Stribor's Wood, sculpture
Sinj, Firelock 1617, sculpture in front of the Museum of the Alka of Sinj
Split, the Chapel of St. Arniro. Christmas crib, temporary installation
2016 Split, Franciscan monastery in Poljud. St. Anthony, statue
2015 Dračevica, island Brač. Plaque with the head of academician Petar Šimunović
2011 Bol. Golden Horn, sculpture
Šibenik, Dražen Petrović, sculpture
2010 Zadar, University of Zadar. Miroslav Krleža, bust
Medov Dolac. Prayer on the Mount of Olives, relief
2009 Ploče. Memorial commemorating the defenders killed in the Homeland War
Omiš. Plaque with the head of dr. Ivo Šaškor
Split, Croatian National Theatre, Actor Josip Genda, bust
Omiš, Lovro pl. Matačić Elementary Music School. Conductor Lovro pl. Matačić, bust
Zagreb, Vatroslav Lisinski Concert Hall, Conductor Lovro pl. Matačić, bust
2008 Kaštel Novi, Stomorija Biblical Garden. The Apple, sculpture
2007 Sinj. Fr. Josip A. Soldo, bust
2006 Podstrana. St. Anthony, statue
Podstrana. Mobile at the entrance to the Lav hotel
2005 Tribunj, Sovlje. Plaque with the head of architect Vjenceslav Richter
Split. The entrance gate of the Ethnographic Museum
Brusje, cemetery chapel. Crucifix
2004 Makarska. President Franjo Tuđman, statue
Split. Archbishop's crosier for the Archdiocese of Split-Makarska
Omiš. Memorial to fallen defenders in the Homeland War
Omiš, Priko. Plaque with the head of poet, essayist and literary critic Anđelko Novaković
Kaštel Novi, Stomorija Biblical Garden. Cross of Life, sculpture
2003 Široki Brijeg. President Franjo Tuđman, statue
2002 Osor, cathedral. A crucifix
Sinj. Memorial to defeners killed in the Homeland War
Miljevci. King Petar Svačić, seated figure
Tugare. Actor Karlo Bulić, bust
2001 Miljevci. President Franjo Tuđman, bust
2000 Zakučac near Omiš. St. Leopold B. Mandić, statue
Dolac Donji. Naïve Sculptor Petar Smajić, bust
Knin, Church of St. Anthony. New Crucifix
Šibenik, Jubilee Cross of the Diocese of Šibenik
1998 Split. The Funnel fountain in Marmontova Street
1997 Šibenik. St. James' Cathedral, Bishop Badurina, relief figure
Šibenik, Former Bribirski Knezovi Military Barracks, Memorial Chapel of St. Michael. Cross
1996 Omiš, graveyard. Memorial cross
1995 Kaštel Sučurac, Putalj. St. George, relief
1993 Vrgorac. Writer Tin Ujević, statue
Tribunj, plaque with the head of the composer and conductor Boris Papandopulo
Kaštel Sučurac, graveyard Chapel. Cross
Split, Con-Cathedral of St. Peter. Saints Peter and Joseph, relief
1992 Omiš. Plaque with the head of conductor Lovro pl. Matačić
Rat, church of St. Joseph. Crucifix
1991 Zakućac. Poet Jure Kaštelan, bust
Solin. Don Frane Bulić, seated figure
Split. Plaque with the head of composer Jakov Gotovac
1988 Knin, Church of St. Anthony. Crocifix (destroyed during the Homeland War)
Visovac, Ressurection
---
Prizes and Awards
2016 Winner of one of four equal prizes of the design contest for the monument to dr. Franjo Tuđman in Zagreb
2015 First runner-up of the design contest for the monument to the first Croatian president Dr. Franjo Tuđman
2010 First-prize winner of the design contest for the memorial to the victims of communism in Vodice
2008 First-prize winner of the design contest for the memorial monument to the defenders at Krstatice (Zagvozd)
2007 First-prize winner of the design contest for Dražen Petrović's monument in Šibenik
First-prize winner of the design contest for the memorial to the defenders of Ploče
2006 Recipient of the annual award for culture of the Split and Dalmatia County 1999 First-prize winner of the design contest for the memorial to the fallen in the Homeland War in Omiš
1998 First prize winner of the coin design contest for commemorative silver coin for the 1ooth anniversary of birth of Blessed Alojzije Stepinac
1997 Winner of one of three equal prizes of the 6th Triennale of Croatian Sculpture First-prize winner of the coin design contest for commemorative coin for the city of Vukovar
1996 First-prize winner of the coin design contest for commemorative coins celebrating the Olympic games in Atlanta
1996 Fist-prize winner of the coin design contest for commemorative coin for six hundred years of university education in Zadar
1995 First-prize winner of the coin design contest for commemorative coins for 1700 years of the city of Split
1989 Recipient of Josip Račić Award of the Vjesnik newspaper for Fine Arts
1986 Recipient of the Award of Island Hvar Art Meetings
1985 Winner of Emanuel Vidović Grand Award of the Split Salon
1983 Winner of the Sculpture Award of the Split Salon
Orders, decorations and medals of Croatia
1997 Order of Danica Hrvatska with the face of Marko Marulić – for culture
1997 Order of Danica Hrvatska with the face of Katarina Zrinska – for health, social welfare and the promotion of social values
---
Group exhibitions
2021 Split, Croatian Archaeological Monuments. Exhibition dedicated to Saint Jerome
2020 Zagreb, National and University Library. Presentation of the Homage to Tonko Maroević artists' book
Stari Grad, City Museum, presentation of the Homage to Tonko Maroević artists' book
Split, University Gallery. Fundraising exhibition for Banovina
2018 Split, Old City Hall. Sprint
Split, Cellars of Diocletian's Palace. Split Salon
2017 Solin, Zvonimir Gallery. Small Scale Art
Zagreb, Art Pavilion. The Forest, Nature cycle
Split, Old City Hall. Split Art Memo
Split, Gallery of Fine Art, 30 Years After the Art Summer 87 Sculpture Workshop
2016 Solin, Zvonimir Gallery. Small Scale Art
Split, City Hall. Wind in the Sails
2010 Trieste, Ex Pescheria Centrale. Contemporary Croatian Sculpture
Ljubljana, Jakopič Gallery. Contemporary Croatian Sculpture
Péch, Cella Septichora Centre. Contemporary Croatian Sculpture
Split, Old Town Hall. Participation, Non-Simulation
2009 Vienna, Kunstlerhaus. Contemporary Croatian Sculpture
Berlin, Ministry of Foreign Affairs of the Federal Republic of Germany. Contemporary Croatian Sculpture
Bratislava, Art Centre. Contemporary Croatian Sculpture
Zagreb, Glyptotheque of the Croatian Academy of Sciences and Arts. Contemporary Croatian Sculpture
Zagreb, Mimara Museum. 15 Years of Activity of the Croatian Monetary Institute
2008 Split, Gallery of Fine Art, Cornaro Bastion. Articulation of Space: Works in Progress
2007 Ravenna, Park Hotel. 51st Premio Marina di Ravenna
Split, Cellars of Diocletian's Palace. Split Salon
2006 Zagreb, Klovićevi dvori Gallery. Recent Sacral Art
Zagreb, Nova Gallery. Normalization : Homage to Nikola Tesla
Zagreb, Glyptotheque of the Croatian Academy of Sciences and Arts. 9th Triennale of Croatian Sculpture
Tirana, Kombëtare e Arteve Gallery. Contemporary Croatian Drawing
2005 Amman, Amman Royal Cultural Centre. Contemporary Croatian Drawing
Vukovar, City Museum of Vukovar. Towards the Vukovar Salon
Gorizia, Castello di Gorizia; Nova Gorica, Kromberk Goriški muzej. Meterika : Aspetti della scultura contemporanea tra Austria, Croazia, Italia e Slovenia
Zagreb, Cultural Centre of the Embassy of Bosnia and Hercegovina. Tin in the Works of Fine Art
Termoli, Galleria Civica d'Arte Contemporanea. Le Due Rive, artisti italiani e croati
2004 Osijek, Gallery of Fine Art. 8th Ivo Kerdić Memorial: the Triennale Exhibition of Croatian Medal Art and Small-Scale Sculpture
Seixal, FIDEM XXIX. Art Medal World Congress
Troyes, Maison de l'Outil. La puissance du verre, dans l'art contemporain
2003 Zagreb, Glyptotheque of the Croatian Academy of Sciences and Arts. 8th Triennale of Croatian Sculpture
2002 Kaštel Lukšić, Museum of the City of Kaštela. Christmas crib
Šibenik, Sv. Krševan Gallery. 1st Exhibition of Artworks from the Collection of Sv. Krševan Gallery
Pariz, Monnaie de Paris. FIDEM 2002: 28e Congrés International de la Médaille D'Art
2001 Innsbruck, BTV Gallery. Die Zeitgenössische Kroatische Kunst
Zagreb, Pliva Gallery. Island (16 authors from Hvar)
Split, Gallery of Fine Art. Gallery of Fine Art's Anthological Works
Split, Gallery of Fine Art. Split Salon: A View on Contemporaneity
2000 Zagreb, Mimara Museum. Threshold of the Millennium on Medals and Coins
Zagreb, Klovićevi dvori Gallery. Branko Ružić and His Contemporaries
Split, Cellars of Diocletian's Palace. Split Salon: Looking Back
1999 Slavonski Brod, Art Gallery. Branko Ružić and His Contemporaries
1998 Cairo, Museum of Modern Egyptian Art, 7th International Biennale of Cairo
Osijek, Gallery of Art. 6th Ivo Kerdić Memorijal: the Triennale Exhibition of Croatian Medal Art and Small-Scale Sculpture
1997 Paris, UNESCO Hall. Contemporary Spalatian Painters and Sculptors
New York, Paulin Rieloff Galery. Croatian Artists against Leukemia
New York, Ward Nasse Gallery. Croatian Spring '97
Zagreb, Glyptotheque of the Croatian Academy of Sciences and Arts. 6th Triennale of Croatian Sculpture
Split, Cellars of Diocletian's Palace. Split Salon
1996 Neuchâtel, Musée d'art et d'histoire de Neuchâtel. 25e FIDEM: Exposition internationale de médailles d'art contemporaines
1995 Russelsheim, Foyer Stadttheaters Rüsselsheim, Kroatische Künstler stellen in Rüsselsheim
1994 Zagreb, Glyptotheque of the Croatian Academy of Sciences and Arts, 5th Triennale of Croatian Sculpture
Langen, Kulturhaus Altes Amtsgericht
Pula, City Palace, Diana Gallery
Stuttgart, Haus der Wirtschaft. Kroatische Maler und Bildhauer
1993 Split, Croatian Association of Artists. 3rd Salon of Sacral Art
Zagreb, Museum of Arts and Crafts. Contemporary Croatian Sculptors for the Disabled in the Homeland War
Zagreb, Mimara Museum. For the Gallery of Vukovar
Osijek, Gallery of Fine Art, 5th Ivo Kerdić Memorial: the Triennale Exhibition of Croatian Medal art and Small-Scale Sculpture
Alexandria, Centre national des Arts Plastiques. XIX. Biennale d'Alexanrie pour les pays de la Mediterranée
Split, HDLU, 9th Adriatic Art Annale
1992 Split, Art Salon. 2nd Salon of Sacral Art
Ljubljana, Cankar Centre. International Biennale of Small-Scale Sculpture
St. Gallen, Croatian Catholic Mission. Humanitarian exhibition of Split artists
Šibenik, Museum of the City of Šibenik. Sea, Popole, Coast
Split, Museum of the People's Revolution. Six Split Sculptors
Dugi Rat, church of St. Joseph. Via Crucis
1991 Split, Art Salon. 1st Salon of Sacral Art
Split, Galić Salon. Exhibition of design proposals for the south gate of Diocletian's Palace
Split, Diocletina's Palace. Art Annale and New Objectivism
Zagreb, Glyptotheque of the Croatian Academy of Sciences and Arts. 4th Triennale of Croatian Sculpture
Zagreb, Klovićevi dvori Museum Space. 1000 years of Croatian Sculpture
Murska Sobota, Miško Kranjec Cultural Centre Gallery. International Biennale of Small-Scale Sculpture
1990 Zagreb, Modern Gallery. Exhibition of the recipients of Josip Račić Award
1989 Zagreb, Karas Gallery. Fine Art in the Dalmatian Region: a Look at Current Issues
Split, Art Salon. Split Salon
Pančevo, Olga Petrov Cultural Centre's Contemporary Gallery. 5th Pančevo Exhibition of Yugoslav Sculpture
Split, Museum of the Revolution. Split Artists in the 80s
Dubrovnik, Art Gallery. 8th Dubrovnik Salon
1988 Hvar, Arsenal Gallery. Hvar Art Meetings
Zagreb, Glyptotheque of the Croatian Academy of Sciences and Arts. 3rd Triennale of Croatian Sculpture
Split, Prisca Gallery. Prize-Wining Young Yugoslav Artist
1987 Zadar, Gallery of Art. 6th Zadar Salon of Young Artists
Split. Art-summer 87 sculpture workshop
Stari Grad, Juraj Plančić Gallery. Hvar Art Meetings
Tuzla, Yugoslav Portrait Gallery. 6th Exposition of Yugoslav Portraits
Zagreb, Art Pavillion. 22nd Zagreb Salon
Rijeka, Modern Gallery. 14th Biennale of Young Yugoslav Artists
Sarajevo, Skenderija Olympic Centre. Yugoslav Documenta
1986 Aleksinac, Cultural Centre Gallery. May Day Art Salon
Hvar, Arsenal Gallery. Hvar Art Meetings
Split, Art Salon. Split Salon
Split, Museum of Croatian Archeologically Monuments. Homage to Blaž Jurjev
1985 Rijeka, Modern Gallery. 13th Biennale of Young Artists
Murska Sobota, Cultural Centre. 7th Yugoslav Biennale of Small Scale Sculpture
Split, Dioklecian's Palace, Great Hall. Art-summer: Threads of Myth
Zagreb, Art Pavilion. 2nd Triennale of Croatian Sculpture
Zagreb, Karas Gallery. Self-portrait in Croatian Sculpture from Modernism to Present Day
1984 Split, Croatian Association of Artists. May Day Exhibition
Split, Art salon. Small-Scale Paintings
Split, Art Salon. Young Croatian Sculptors
Split, Art Salon. Split Salon
Split, Archaeological Museum. Don Frane Bulić
Zagreb, Dubrovnik Hotel. Days of Island Hvar
1983 Split, Galić Salon, Nudity and Eroticism
Tuzla, Yugoslav Portrait Gallery. 5th Exhibition of Yugoslav Portraits
Split, Art Salon. Split Salon: Autumn in the City
Osijek, Art Gallery,.2nd Ivo Kerdić Memorial: the Triennale Exhibition of Croatian Medal Art and Small-Scale Sculpture
Belgrade, Student Centre. Exhibition of works by students od the Academy of Fine Art, Ljubljana, and students of the Faculty of Fine Art, Beograd
1982 Split, Art Salon. May Day Exhibition
Zagreb, Karas Gallery. 10th Exhibition of New Work by SHDLU and HDLUZ Members
Zagreb, Glyptotheque of the Croatian Academy of Sciences and Arts. 1st Triennale of Croatian Sculpture: Confrontations
Split, Art Salon, Split Salon
1981 Split, Art Salon. May Day Exhibition
Split, Art Salon, Split Salon
Zadar, Gallery of Art. Split Salon
1978 Split. Exhibition of works by the BRB art group in front of the Dalma department store
Zagreb. the exhibition of works by the BRB art group in front of the Nama department store
Šibenik, Krševan Gallery. Exhibition of works by the BRB art group
Zagreb, Karas Gallery. Exhibition of works by candidates for election of new member of the Croatian Association of Artists
1977 Kumrovec, Memorial Centre Gallery, the exhibition of works by students of the Academy of Fine Art, Zagreb
1976 Beograd, Student Town. Exhibition of works by students of fine art academies