Filipi Goran, F.C.A.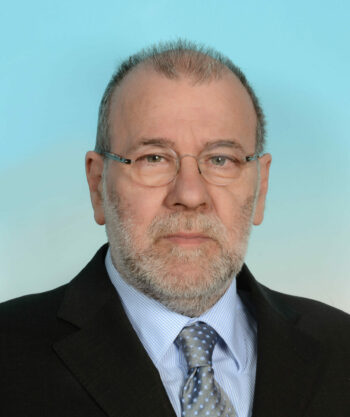 Date of birth:
Place of birth:
Deceased:
January 8, 2021, in Medulin
Filipi Goran, F.C.A.
Academic titles:
fellow of the Croatian Academy of Sciences and Arts
Institutions:
retired professor – University "Juraj Dobrila" in Pula
Functions in Academy:
head – Linguistic Research Institute in Zagreb (04/01/2019 – 01/08/2021)
deputy secretary – Department of Philological Sciences (01/01/2019 – 01/08/2021)
Membership in Academy:
full member – Department of Philological Sciences (05/10/2012 – 01/08/2021)
associate member – Department of Philological Sciences (05/29/2008 – 05/10/2012)
---
Curriculum Vitae
Goran Filipi was born in 1954 in Zadar, graduated in Italian language and literature and English language and literature at the Faculty of Philosophy in Zadar (1979). As he grew up and was educated in Izola, he has been an active trilingual speaker (Croatian, Slovenian, Italian) since childhood. In 1985 he received his master's degree from the Inter-University Centre for Postgraduate Studies in Dubrovnik (romance linguistics, organized and performed by the Faculty of Humanities and Social Sciences, University of Zagreb), and in 1991 he received his PhD from the Faculty of Humanities and Social Sciences, University of Zagreb. He worked at the Department of Italian language at the Faculty of Humanities and Social Sciences in Pula from 1985 until his retirement on September 31, 2019 (as a full professor since 1998, in a permanent position since 2005), and at the Faculty he performed various duties of organizational and scientific type, including in two terms of dean. For a number of years (1996–2005) he taught Italian historical grammar at the Faculty of Humanities and Social Sciences in Ljubljana, and since 2003 he has regularly taught, as a visiting professor, Italian and linguistic courses at the Faculty of Humanities in Koper. On several occasions as a visiting professor he taught at the University of Udine. He has also been a guest at other foreign universities (Rome, Padua, Bologna, Celovec, Graz, Vienna).
In his scientific research, he was primarily engaged in the study of Romanidions on Croatian soil (especially Istria: Istrian, Istriot, Istro-Romanian) and Romano-Slavic linguistic contacts and permeations (especially in Dalmatia and Istria). After defending his doctoral dissertation, in addition to one editorial one, he published 23 books (of which six books of etymological studies on Istro-Romanian, four volumes of linguistic atlases of Istria /for Istriot, Istrian, Istro-Romanian and maritime terminology of Istrian speeches/, three etymological dictionaries /folk terminology of shipbuilding, folk Istrian ornithonymy, folk Slovenian ornithonymy and dr.). The project of the Language Atlas of Istria, which began during the 1990s, and for which he has so far published the aforementioned four volumes /three in collaboration/, continued with his collaborators for the linguistic atlas of Istrian Chakavian idioms (collected material in 50 points was prepared for printing). Thus, the total linguistic material of Istria will be arealistically presented and presented for 93 points. In addition to the books, he has published 81 scientific articles (mostly original), 23 parts or book chapters, six professional articles, five popular articles and 16 /printed/ reviews. By studying Roman idioms on the territory of Istria, he showed and emphasized the antiquity of the Croatian (as in the northwest and Slovenian) ethnic and linguistic components of Istria, next to the old and recent Romance, and in a series of articles and studies he emphasized and showed the connection of the Istrian ethno-linguistic space with the rest of Croatia and especially Dalmatia.
---
Bibliography