Bašić Nikola, F.C.A.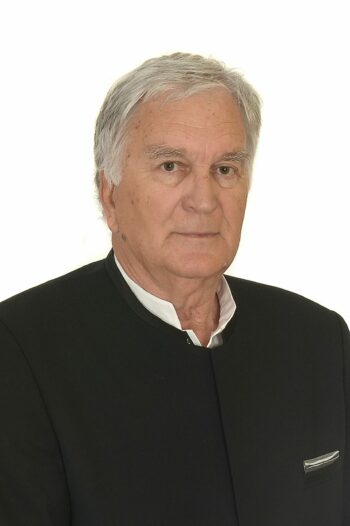 Date of birth:
Place of birth:
Addresses:
Trg Nikole Šubića Zrinskog 11, 10000 Zagreb
Phones:
Emails:
Bašić Nikola, F.C.A.
Academic titles:
fellow of the Croatian Academy of Sciences and Arts
Functions in Academy:
chair – Scientific Council for Tourism (09/25/2019 – …)
chair – Scientific Council for Tourism (01/27/2016 – 09/25/2019)
Membership in Academy:
full member – Department of Fine Arts (05/12/2016 – …)
associate member – Department of Fine Arts (05/29/2008 – 05/12/2016)
---
Curriculum Vitae
Nikola Bašić, architect and urban planner, graduated in 1972 from the Faculty of Architecture and Urban Planning in Sarajevo. His first employment was at the Department of Studies and Design DOM Sarajevo, whilst 1976–1981, he worked as assistant lecturer at his alma mater. In 1981, he joined the DONAT project office in Zadar. 1985–1991, he led the architectural team in SAS, Zadar, whilst since 1991, he has led his own design office MARINAPROJEKT. He is associate professor at the GAG Faculty of the University of Split (2005–2015). He became associate member of the Croatian Academy of Sciences in 2008, and has been Fellow of the Academy since 2016. Thanks to diversity in his architectural oeuvre, he persistently questions the established patterns in search of originality, expressing such approach in innovative forms of apartment organization, projects in the field of nautical tourism, and in the 3K principle of architecture derived from experience in designing sacral architecture.
In his more mature career stage, he turned to projects with a starting point in the matrix of cultural landscape, with the participation of users in the creation thereof: Chapel of Okito (1998); the Pope's stage at the Zadar Forum (2003); Memorial to the firefighters on Kornati (2010).
He participates in numerous architectural competitions both as author and as member or chair of the jury. He is member of professional associations and councils, and perennial chair of the HKA jury. He is esteemed lecturer and participant in scientific, professional and public meetings, as well as in group and solo exhibitions at home and abroad.
He has received several professional and social awards. The Sea Organ, an urban installation that has shaped a unique public urban space in Zadar, was awarded the European Prize of Urban Public Space (2006); together with the second installation – Greeting to the Sun, the Sea Organ represented Croatia at the 11th Venice Biennial.
He has been awarded the Medal of the Croatian Star with the Effigy of Marko Marulić and the Medal of Duke Branimir with necklace, as well as the Medal Chevalier de l' Ordre des Arts et des Lettres.
He is holder of honorary doctorate of the University of Split.