Babić Hrvoje, F.C.A.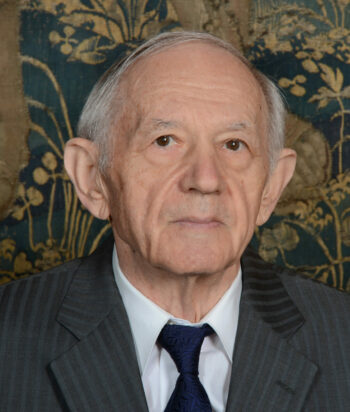 Born:
September 17, 1929, in Bugojno
Deceased:
Babić Hrvoje, F.C.A.
Academic titles:
Fellow of the Croatian Academy of Sciences and Arts
Professor emeritus
Professor Doctor of Science
Institutions:
full professor, retired – Faculty of Electrical Engineering and Computing University of Zagreb
Membership in Academy:
full member – Department of Technical Sciences (01/30/1997 – 06/07/2015)
---
Hrvoje Babić, F.C.A., a prominent Croatian scientist in the field of electronics, was born on September 17, 1929, in Bugojno. He attended elementary school in Metković and gymnasium in Zagreb. He graduated in 1955 from the Faculty of Engineering, University of Zagreb and received his PhD in 1965. From 1955 to 1974 he was employed at the Electronic Department of the Ruđer Bošković Institute, where he was a senior research associate since 1970. From 1965 to 1967 he worked at the Technical College in Stockholm on microwave accelerators. He has repeatedly attended the University of California Los Angeles and Santa Barbara as a researcher and visiting professor in the field of electronic signal processing applied in instrumentation, automatic regulation, and communications. At the Faculty of Electrical Engineering of the University of Zagreb (today the Faculty of Electronics and Computing) he held lectures in postgraduate and undergraduate teaching since 1964, and he moved to the faculty in 1974. He was elected full professor in 1977.
He initiated the introduction of the direction of industrial electronics and worked to improve curricula. He developed scientific and professional activities in the field of analog and digital signal processing and digital measuring systems, led research projects and encouraged scientific and professional work of junior associates. Since 1987, within the faculty, he has organized and led the Laboratory for Systems and Signals, which achieved an enviable professional reputation and made a significant contribution to the organization and realization of the Croatian Academic Network CARNet.
Hrvoje Babić was elected a full member of the Croatian Academy of Sciences and Arts in the Department of Technical Sciences in 1997. He was a member of the Academy's Scientific Council for Research Infrastructure of Croatia.
From 1991 to 1994 he was vice-rector of the University of Zagreb for Science and president of the Science Committee and received the title professor emeritus in 2000. He was also the president of the Commission for Computerization of the University of Zagreb. In 1986 he received the Republic Award "Nikola Tesla" for scientific and development activities, and in 1996 the CASA Award.